NEWS
Splitsville for Michael Lohan & Jon Gosselin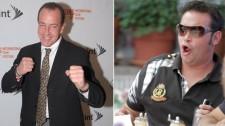 Trouble has been brewing for a while between Michael Lohan and Jon Gosselin, but it looks like Mike has finally called it quits."I kept him out of harm's way when there were paparazzi around… and he stabbed me in the back," Michael tells Access Hollywood.
"When you open your door to somebody and you give them a safe haven and a place to go and then they turn around and bite the hand that feeds or stab you in the back, that doesn't sit well with me," Michael adds.
Article continues below advertisement
The former BFFs became fast friends, and there was even talk of the two pairing up for a new reality show about divorced dads.
Their frenemy status began after Michael was subpoenaed by TLC to testify in the network's breach of contract suit against Jon. TLC claims the reality dad was making business deals with Michael in violation of their secret agreement.
"He did deals with me," Michael told RadarOnline.com last month."I was working on a deal with him for a Nutrisystem endorsement and a book deal. He got a paid a lot of money for different promotions, clubs, magazines, and by a TV network."
Michael's played innocent, saying he didn't know Jon would be in violation of his TLC contract.
"At times he said what we were doing was okay; at times times he said it was a problem. I guess that's why he got paid cash for so many of the personal appearances so no one would know."
Michael also dishes to Access about his estranged daughter Lindsay Lohan. He insists his decision to tape private photo conversations with his daughter was in an attempt to save her life.
Michael says that if the reports are true about Lilo entering therapy, it was his daughter's call.
"I cannot take credit for that. That was her decision regardless of whether she's going to therapy or not, which is a wonderful thing," Michael tells Access.
Lindsay's verbose pop feels there are still steps his daughter needs to take to enhance her well-being.
"I still think she needs to get off the prescription medications and then she'll have her life back," he continues. "She's a gifted, gifted girl and she should use her talent, her blessing as best she can… I just wish the best for my daughter. I love her. I want her to get well and stay well and have her life back."