NEWS
'Sports Illustrated' Model Genevieve Morton Joins Black Eyed Peas for Super Bowl Blowout!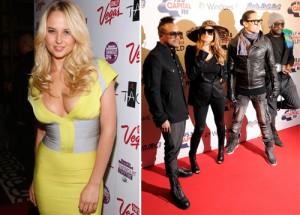 The Black Eyed Peas are going to have some help taking over Dallas this week from some sexy Sports Illustrated models. One blonde bombshell in particular, Genevieve Morton, has been causing quite the buzz on the internet today, not only for Super Bowl party plans with BEP, but for crashing FHM's South African edition's website with her sexy March spread.
The South African beauty must have quite the fan base in her home country, as people flocked to the site to see her pose in her skimpy bikini!
Article continues below advertisement
OK! NEWS: PREPARING SUPER BOWL RECIPES? HEED JILLIAN MICHAEL'S HEALTHY EATING TIPS
Anyone trying to catch a glimpse of the siren was sent to a page that stated: "Part of our website just broke! We have been notified and will fix it soon."
On the Super Bowl note, get ready for music and models! The Black Eyed Peas, which is also providing half-time entertainment for the big game Sunday, are joining forces with Sports Illustrated to host "Sports Illustrated Presents: The Official Black Eyed Peas Friday NightB4 XLV Party."
The BEP website also shares their will be DJ sets from Will.i.am and David Guetta and Genevieve who will be joined by fellow models Christine Teigen, Julie Henderson and Anne V.
BEP marks a shit in previous years performances which included Bruce Springsteen, Tom Petty and the Heartbreakers.
Are you excited for the half-time show?