NEWS
Stars Dish on Swine Flu, Kanye, Fashion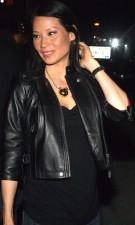 Although Kate Hudson is announced as a guest during the 2009 Hennessy Artistry Series Finale held Wednesday at NYC's Terminal 5, she never shows. (Hm, could it be something about that Yankees game?) Instead, a parade of stars take to the black carpet including a windblown Lucy Liu forgiving the weather, Penn Badgely showing off his dancing skills, Eve riffing on her "pitbull in a skirt" line and a maybe-single-now Ashanti getting worried about swine flu.
Article continues below advertisement
Plus, Consequence clears up rumors that Kanye West is in rehab, Anthony Mackie dishes on Matt Damon and Eminem, and three stars walk in without giving interviews. (Who could it be?)
As the wind whips everyone's hair into a frenzy, stars step up for the action before the Hennessy Artistry Series Finale concert featuring Common and The Roots.
Lucy's here tonight to support The Roots. "Huge fan," she says. "So excited." What special guest would she like to see tonight? "Well, Jay-Z is one of my favorites. He kind of rules."
Luckily, the Charlie's Angel isn't phased by the weather, which has cooled down considerably. She is pleased to adjust her fashion to fit fall.
"I just love the ability to have seasons in New York, and the weather and the ability to layer and accessorize," she says. "You can't really go wrong with that. If you live in L.A., it's a whole different ballgame, but being in New York, anything goes."
Penn dances down the carpet, mimicking Gossip Girl co-star Chace Crawford, who is training for Footloose. "He did a little bit of a move coming across … the Usher foot slide," he says, throwing in an extra "r" for effect as in Ursher. Does he dance? "I do, actually, I dance. Yeah. Just a little. Not on this carpet, but I can." As for his craziest dream? Zing! Zapped by his powerful publicist.
Article continues below advertisement
Here comes Eve. She's been called "a pitbull in a skirt," so can we expect her to start a skirt line? After all, I hear Sarah Palin is looking to capitalize on her "pitbull with lipstick" categorization. "No," the Whip It star tells me. "But I am starting a new fashion line. I'm frozen."
Meanwhile, Ashanti fans the flames of breakup rumors with long-term beau Nelly. When asked if they're still dating, she looks shocked. "Huh?! My album is coming out crazy." She cackles.
She's worried about getting swine flu. "Ohh! Why'd you have to bring that up? I have a lot of Purell in my bag." How is she dealing with it? "Keep washing your hands, don't touch candy and stuff like that that's been sitting out. And try to get everything from your house instead of from the store." Has it made her antisocial? "Nah. I just put the Purell on after I shake the hand."
How is Kanye West doing post-Taylor Swift MTV Video Music Awards scandal?
Article continues below advertisement
"He's fine, he's fine, he's fine," Consequence, whose forthcoming album is being produced by the Golddigger, says. "He's great. He's great, great. He's got a beautiful woman on his arm, a million dollars in the bank. He's good."
As for those reports Kanye is in rehab?
"There's no need for rehab," Consequence tells me. "He has great friends. He's good, he's good, he's good."
Next up is Anthony Mackie, who is working with Matt Damon in The Adjustment Bureau. What is he like as a dad? "The great thing about Matt is that his family comes first," Anthony tells me. "From talking to him and spending time with him, the one thing that you're always assured of is if something goes wrong with his family, he's going to be there first. That's part of it to any good dad."
And what about his former 8 Mile co-star Eminem?
"I haven't talked to him in four years," Anthony says. "Em is a creative, renaissance man. He's in a position now where his money is working for him, so he don't have to be the Eminem that we knew. It's always great. He's building and constructing a complete genre of hip hop."
Best memory of working with him?
"My favorite memory was the final day of shooting," he says of life with Em. "He stood up and said 'you guys are phenomenal actors.' He threw a party for all the actors in the movie, and really made us feel special. He invited us to his house. We were sitting at his house, having drinks and shooting pool. He really put us in the position where we knew we did a good job."
Whoops, there go Robin Thicke and Paula Patton, loving it up on the black carpet without saying a word. And Common, who certainly doesn't want to court press given his relationship with Miss Serena Williams.
Time for the show, which includes special guests Q-Tip and Queen Latifah. Woo-hoo!
And now for some photos. Here I am with Queen Latifah, Ashanti and Taylor Swift.