NEWS
Stars Rule at the Screen Actors Guild Awards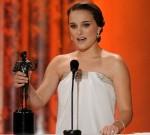 Nestled between the Golden Globe Awards and the Oscars is yet another red carpet romp for the stars: the SAG Awards! Last night was no different when stars shone brightest at the fiesty awards ceremony. Whether it was Betty White canoodling her trophy or Natalie Portman cursing on stage, the 17th Screen Actors Guild Awards provided lots of laughs.
OK! GALLERY: SCREEN ACTORS GUILD NOMINEES ANNOUNCED — SURPRISES AND SNUBS!
Article continues below advertisement
Among the highlights? The 89-year-old Betty flirted with her "naked" trophy and Colin Firth admitted he previously used his SAG card to pick up women! Colin added after winning the Best Actor category, "I'd like to thank security for letting me in."
OK! NEWS: MARK ZUCKERBERG HAS NO STATUS UPDATES FOR THE SOCIAL NETWORK OSCAR NOMINATIONS
Perhaps the most surprising moment of the night came from Natalie Portman when she swore on stage! The very pregnant Best Actress winner thanked SAG for taking care of her since she was 11 and then thank her parents, and dropped a curse word. Oops!
OK! NEWS: RAZZIE AWARD NOMINATIONS ANNOUNCED
Best actress in a drama series, Julianna Margulies, gave homage to NYC snow for "all the teamsters for digging us out of the snow for the past two weeks." And not to be outdone, when The Social Network's stars, Andrew Garfield and Justin Timberlake presented their movie in the best ensemble category, they poked fun at the competitive theme as they fought for the microphone.
Did you watch last night? What was your favorite moment?