NEWS
Stars Shine Bright on Blue Carpet at 2011 People's Choice Awards!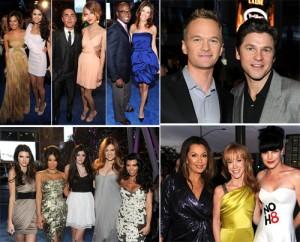 Our favorite stars from the big screen, small screen, music scene and beyond hit the blue carpet Wednesday night at the 2011 People's Choice Awards at the Nokia Theatre in L.A. Energy was high and celebs made time to catch up with old pals and pose for pictures on the carpet. Zac Efron and Taylor Swift shared a warm embrace. Private Practice costars Taye Diggs and Kate Walsh matched the carpet and Ashley Tisdale caught up with fellow Disney star, Selena Gomez!
Article continues below advertisement
All five Kardashian sisters attended the event, on hand to accept the award for Favorite Guilty Pleasure.
Kourtney Kardashian, Kim Kardashian, Khloé Kardashian Odom (sporting a new red 'do), Kendall Jenner and Kylie Jenner were all together to celebrate their award.
"Thank you so so SO much to everyone who voted for Keeping Up with the Kardashians for the 2011 People's Choice Award in the category of Favorite TV Guilty Pleasure!!!!! It is such an honor that so many of you tune to watch the craziness that is my family LOL. It's honestly still so surreal to me and I count my blessings every single day. We have the most amazing fans in the world and I'm beyond grateful for ALL of you. How did I get so lucky?! I love you all madly! Thank you again for voting!!!!" Khloé wrote on her blog minutes after the Kardashian win.