NEWS
Watch Pia Toscano's Journey on 'American Idol'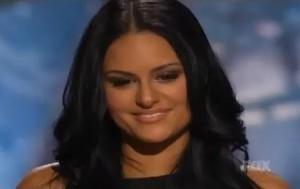 "The Daughtry Effect" hit American Idol last night. Everyone seemed to think Pia Toscano would be safe, but the ballad loving singer was sent home. The tears were flowing on stage, but Pia held it together until the very end when she was embraced by her fellow crying contestants.
OK!'S AMERICAN IDOL BLOG — SHOCKING TOP 9 RESULTS SHOW!
Still, it may have been Jennifer Lopez who took the elimination the hardest.
Article continues below advertisement
"Jennifer, what's happened here?" Ryan Seacrest asked.
"I have no idea," she said with tears in her eyes. "I have no idea what just happened here. I'm shocked. I'm angry. I don't even know what to say."
"By the way, Ryan. We said it last night. No one is ever safe," Randy Jackson warned. "If you thought that she was safe look at where she is now — you didn't vote. You've got to vote for whomever you love!"
"I'm never upset on this show and I'm never really mad, but this make me mad," he added. "It's like what is going on?"
"I don't know America, man," Steven Tyler said. "Mistake is one thing, but lack of passion is unforgivable. They're wrong. I don't know what happened with this."
"She's beautiful," he added. "When she sings she's a bird."
OK! VIDEO: WATCH IGGY POP'S "WILD" PERFORMANCE ON AMERICAN IDOL
Watch Pia's Journey on American Idol below!
Meet Pia Toscano
Pia's Final Hollywood Performance
"Where Do Broken Hearts Go"
"All In Love is Fair"
"Don't Let the Sun Go Down on Me"
"River Deep Mountain High"
Pia's Journey on American Idol Recap