NEWS
OK! Exclusive: Catching Fire's Stephanie Leigh Schlund on Why She Wanted Romantic Scenes With Liam Hemsworth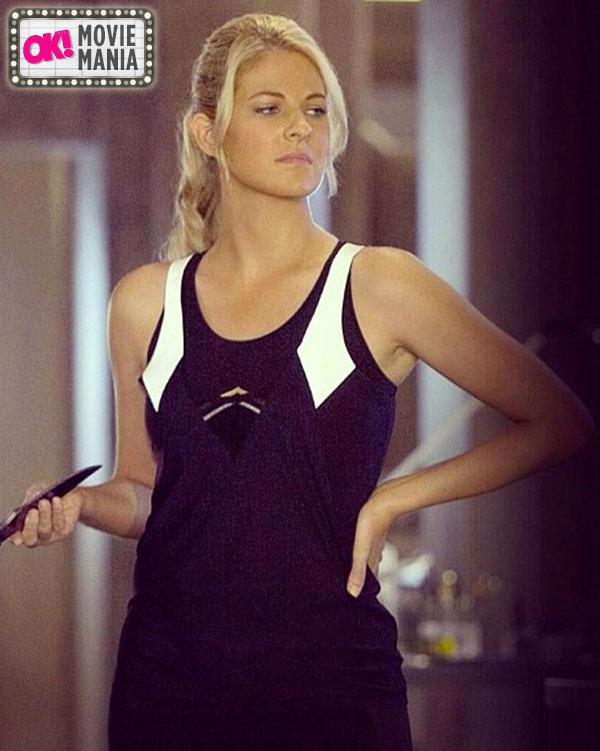 Excited to meet the new tributes when Catching Fire comes out this weekend? Here's your first introduction to Stephanie Leigh Schlund, the lucky actress who plays Cashmere in the second Hunger Games film. Swear she's a lot nicer in real life than her angry character is! Anyway, read on to see what Stephanie told us about getting the part, if Jennifer Lawrence is really that funny IRL, why she wanted to have more (sexy) scenes with Liam Hemsworth (who played her brother in another movie!), and more. Read on!
Article continues below advertisement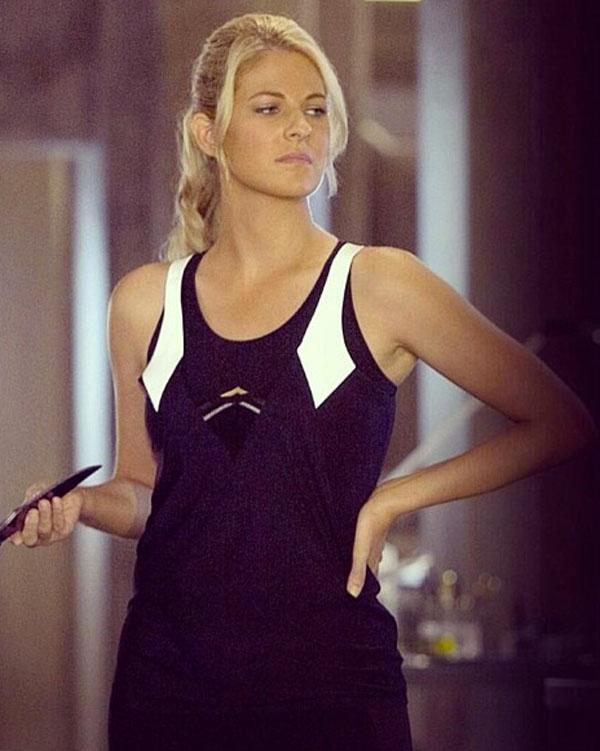 OK!: Can you tell me what it was like when you got the call that you got the part of Cashmere?
Stephanie Leigh Schlund: I was in Mexico with my family. After I got the call, I went back to the beach with my family and told them,"hey guys I just booked the role of Cashmere in Catching Fire," and my sister went "uh huh I'm sure—and I'm Katniss." I don't think they believed me. It kind of was a little bit of a tease all night. I think at dinner when they realized I had a plate of chicken and broccoli as opposed to other things they believed me!
Photos: The 7 Most Anticipated Scenes from Catching Fire
OK!: Whoa, so you started dieting that soon after you got cast?
SLS: I immediately started in on eating very clean—a lot of vegetables, high protein. And I started with a personal trainer right away. Then about three months before filming, we started with the stunt team on our weapons. Mine is obviously knives and they taught me a ton of cool tricks and then I had to start learning choreography with the knives as far as throws and all kinds of crazy stuff.
Article continues below advertisement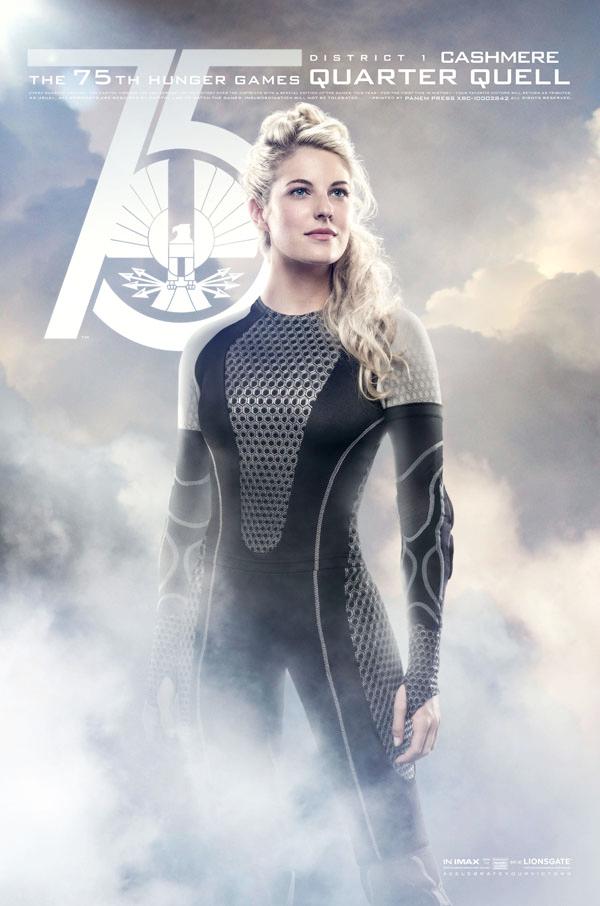 OK! News: Everything You need to Know About Sam Claflin Playing Finnick
OK!: What can you tell us about what it was like working with Sam Claflin, who got cast in the major role of Finnick?
SLS:  I got to see Sam in action, one-on-one, something that the fans have yet to see. Finnick is such a charming character. Having been a fan of Hunger Games myself and having read the book I was very intrigued to see who they were going to cast as Finnick because he is such a heartthrob. I must have missed his announcement when they announced Sam as Finnick but when I saw him in character and on set he was absolutely perfect, exactly what I imagined Finnick would be.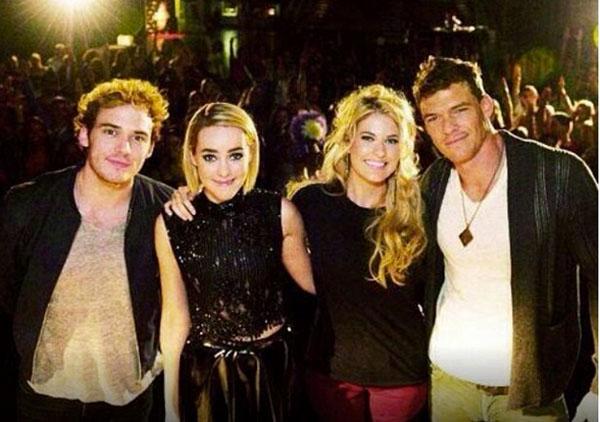 OK!: And what about Jennifer Lawrence? Is she as hilarious in person as she seems?
SLS: She is awesome, yes, what you see is what you get. She is a great girl and super talented and I love the fact that I got to work with her and she is just an awesome girl.
Photos: The 25 Best Jennifer Lawrence Quotes Ever
OK!: What do you think of her in the wedding dress? Because I know Cashmere doesn't love the wedding dress...
Article continues below advertisement
SLS: Cashmere doesn't love the wedding dress but I was personally blown away by it. I thought it was the most beautiful thing I have ever seen. She looked beautiful, she looked absolutely beautiful. It was funny filming that scene, it was highly entertaining because Cashmere has such a nasty look on her face and is just so envious of everything going on and the fact that she is not in the spotlight and her nemesis is stealing the show and winning the hearts.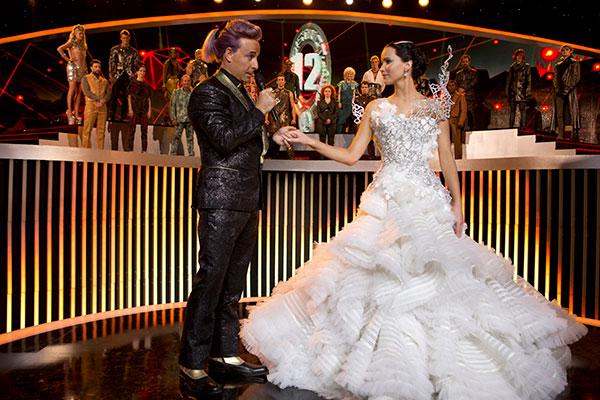 OK!: This movie is full of hot dudes. Who would you have loved to have filmed some romantic scenes with?
SLS: You know, probably Liam. We got to see each other a little bit but we didn't film any scenes together because Gale and Cashmere are obviously not in the same scenes. But that would've been fun if we could've done something together but obviously I understand why that wasn't an option. I think I was in the background of the whipping scene at one point and Francis said, "Walk away! Cashmere can not be in this scene, walk!"
Article continues below advertisement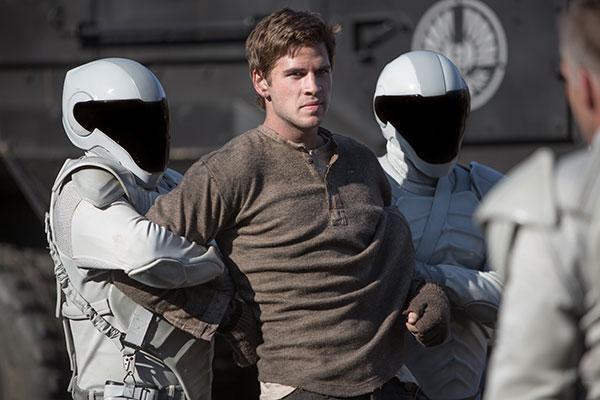 OK!: This is your second time working with Liam, right?
SLS: Yeah, he played my brother in The Last Song. So this was quite opposite of loving each other. But it was awesome we got to catch up, it's funny how life does that it keeps pairing you together, it's fun. It was great seeing him again and both times in Georgia.
OK!: If not Liam, what other actors would you love to co-star in a movie with?
SS: Oh gosh. You know I am really a Mark Wahlberg and Channing Tatum fan, I think they are pretty brilliant actors and easy on the eyes.
OK!: So now that the movie has wrapped filming, do you still feel like you're Cashmere?
SS: No no no, god no. I loved playing Cashmere but I will leave her there because she is quite an angry individual!
Photos: 9 Things To Know About Catching Fire Director Francis Lawrence
Catch Stephanie as Cashmere in Catching Fire when it hits theaters this Friday, November 22! Do you think Stephanie makes a good Cashmere? Which seen are you most excited to see in Catching Fire? Tweet us @OKMagazine.