NEWS
Steve Carell Says He Won't Return for Any Cameos on 'The Office'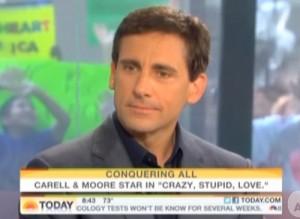 Steve Carell has been busy promoting his rom-com Crazy, Stupid, Love with co-star Julianne Moore, and while fans want to know about his new flick they also want to know about his recent departure from hit NBC sitcom, The Office.
Steve had some pretty humorous and sarcastic answers to Today show host Matt Lauer's questions.
Did he feel comfortable doing drama?
Article continues below advertisement
"Yes, I am a very fine dramatic actor. I know that's the point you were trying to make," he said to the amusement of Matt and Julianne this morning during his interviews. "Well, I wanted to say it, and I was hoping that that subject would come up, because I really have a lot of pride in my dynamic dramatic acting."
He even quipped that Julianne was "intimidated" by his dramatic acting chops.
As far as The Office, while Steve revealed it was weird to see the show continue on without him, he won't be popping up with any guest cameos.