NEWS
Steven Tyler Checks Into Rehab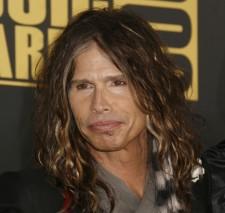 Aerosmith frontman Steven Tyler has checked into rehab for the second time in two years with the full backing of has band and daughter, Liv Tyler.
The rocker — whose erratic behavior provoked talk that he'd left his group — is addressing the management of his chronic pain from various accidents over the years, reports E! Online.
"With the help of my family and team of medical professionals, I am taking responsibility for the management of my pain and am eager to be back on the stage and in the recording studio with my bandmates Joe Perry, Joey Kramer, Tom Hamilton and Brad Whitford," he said in a statement.
Article continues below advertisement
"I love Aerosmith; I love performing as the lead singer in Aerosmith," he adds. "I am grateful for all of the support and love I am receiving and am committed to getting things taken care of."
The hard-rocking 61-year-old also broke his shoulder in August when he fell off a stage while performing in South Dakota.
The band ended the tour early and rumors whirled soon after that Aerosmith would return to performing without one half of the Toxic Twins.
Steve went to rehab in May 2008 to recover from foot surgery. Because of the intense pain and his history of drug abuse he elected for the round-the-clock attention.
"My family and I are in complete support of my dad's decision to seek treatment," says daughter Liv Tyler.
"He is a courageous man. We love him and are so proud that he is getting help to balance his pain management, not just for himself but for his family, friends and fans."