NEWS
Steven Tyler Falls in Hotel Shower & Leaves Hospital in Good Condition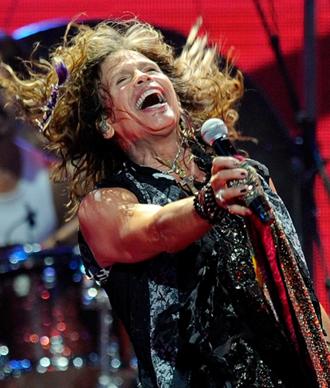 American Idol judge Steven Tyler had a small accident yesterday after falling in his hotel bathroom. The 63 year-old Aerosmith singer lost two of his teeth and endured cuts to his face after falling. Yikes!
According to Reuters, he received stitches and also had emergency dental work done in a hospital in Paraguay. He's currently on tour in Latin America and had planned to perform there yesterday. A spokesperson for local concert organizers told reporters, "Mr. Tyler had a small accident that prevents him from staging the concert tonight. He is fine, he's in his hotel but he's not able to do the concert."
Article continues below advertisement
At the time of his fall, TMZ noted Steven was suffering from dehydration as a result of food poisoning. A bellboy at the Bourbon Hotel told a local radio station that Steven slipped when he was taking a shower and "had a nasty fall."
Steven also endured a fall two years ago while touring. He broke his shoulder in South Dakota after falling off the stage and Aerosmith had to cancel the rest of its tour!
As for the good news? Steven was released from the hospital in good condition and will not need to cancel this tour. The show was simply postponed until today.