NEWS
Stream a Playlist from the Hottest Dads in Music!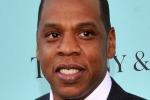 Happy Father's Day! How are you celebrating? Other than posting a throwback pic of you as a baby with your dad while he's wearing some hilarious old sweater or some such retro artifact?
Watch: See 5 hot Hollywood dads hanging with their kids at the beach!
Whether you're hanging with your dad at a barbecue, or just giving him a call and a card, give this playlist a listen. It is comprised of "Dads Who Rock," and it includes music that your dad will love (like Elvis) as well as modern stuff (like from Blue Ivy's dad, Jay-z). Listen up!
Article continues below advertisement