NEWS
Style Experts Jeannie Mai and Malan Breton Weigh in on 2012 Golden Globe Awards Fashion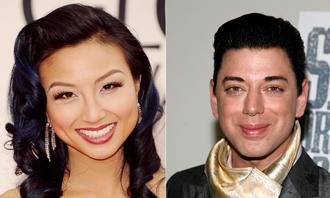 From hot red dresses to barely there gowns, from sophisticated hairstyles to failing 'dos, there was plenty of fashion and hair to discuss after last night's Golden Globe Awards.
OK! snagged our fashion experts Jeannie Mai, host of Style Network's How Do I Look?, and Malan Breton, fashion designer and writer of OK!'s Malan's Musings, to weigh in on who they thought rocked the red carpet and who they thought... well... didn't.
Article continues below advertisement
Worst Dressed:
Jeannie: This pains me to say this... but Natalie Portman. It pains me because I almost owned this dress if I had accepted to be that bridesmaid in 1984.
Malan: Angelina Jolie. She looked like a cupcake in this ode to the prom. Her fall from elegance last night was unfortunate.
Best Hair:
Malan: I loved Charlize Theron's hair and makeup. It made me think of Hollywood yesteryear, the era of the flapper. It was clean, fresh and young, not overplayed and too mature.
Article continues below advertisement
Best Jewelry:
Malan: I adore Tilda Swinton's stunning floral Fred Leighton wrap-around bracelets. They exuded elegance and beauty.
Hottest Couple:
Jeannie: Brangelina OBVI. Literally, the red sea that was the carpet parted when they arrived.
Malan: Still goes to Brad Pitt and Angelina Jolie even though she looked like a cupcake, that is one sexy cupcake!
Most Shocking Moment:
Malan: Two words: Ricky Gervais, that man is a genius! And Seth Rogen's erection joke, tasteless!!!!!
Article continues below advertisement
Jeannie: Ricky Gervais, by being slightly polite.
OK! GALLERY: GOLDEN GLOBE AWARDS 2012 PHOTOS: RED CARPET COUPLES
Most Surprising Win:
Jeannie: Matt LeBlanc in Episodes. Joey has come a long way from Dr. Drake Ramoray and "How you Doing?" to winning a Golden Globe for Episodes, which could be considered one of the most underrated comedies out there.
Malan: The Artist's win, I am so excited that an independent film has gained such praise. It is genius. I highly recommend going to see it.
Host Ricky Gervais from 1 to 10:
Malan: Ricky is Ricky, I give him a 10 for most horrifying and most hysterical. Darlings without his candor, the awards would never move along the way they do.
Jeannie: 10, or else he wouldn't be hosting the Globes for the third year. He was having a jolly good time up there.
Best Speech:
Jeannie: Morgan Freeman. He was sharp and dignified, yet mischievous as he interrupted his lifetime achievement speech to greet Elton John while everyone had tears in their eyes. What a night!
Do you agree with Jeannie and Malan's choices?