NEWS
Super Bowl Commercials 2011: Sneak Peek at Justin Bieber's Ad With Ozzy Osbourne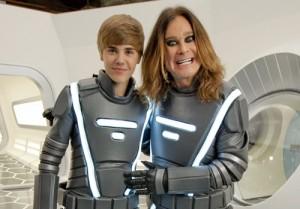 For it's first-ever Super Bowl ad, Best Buy is going big by pairing Justin Bieber with Ozzy Osbourne in their commercial! And from the looks of these pics from the filming of the highly anticipated spot, Justin and Ozzy seem to have gotten along just fine on their futuristic set. Or at least, Justin doesn't seem to afraid of Ozzy's crazed expression!
Article continues below advertisement
Best Buy hasn't released much information about Justin and Ozzy's Super Bowl ad during the Pittsburgh Steelers vs. Greenbay Packers game.
However, E! News reports the ad will run sometime during the third quarter and will last 30-seconds!
OK! NEWS: JUSTIN BIEBER'S HEADED TO THE SUPER BOWL WITH...OZZY OSBOURNE?
While the set seems to be futuristic, E! News says the goal of the ad is to promote Best Buy's new service about buying back your old electronics when you upgrade.
So maybe like trading an Ozzy in for a Bieber?
How do you think the ad will play out?