NEWS
The Surprising New Role You'll See Cameron Diaz In—And Her 5 Best Roles EVER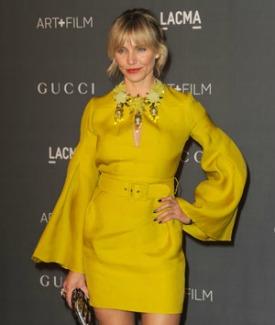 Cameron Diaz has nabbed a surprising new role! She will play the bitchy Miss Hannigan in the remake of Annie being produced by Will Smith and Jay-Z and set to hit theaters Christmas 2014. This news has been met with a lot of speculation, such as: can she pull this off? Is she really right for this part? WTF?
OK! News: The Fifty Shades movie is right around the corner
But guess what though? It doesn't matter. Cameron will probably set foot on set and knock it out of the park. Because she's done it before. I present to you a highly scientific list of Cameron Diaz's 5 best roles that we want to (and do) watch over and over again:
Article continues below advertisement
The Holiday
This movie is simply perfection at any time of the year. Cameron and Jude Law's chemistry is off the charts, her hair looks amazing, that super chic wardrobe, and she's straight up a delight in this film, which is not easy to achieve when you are acting alongside some of Kate Winslet and Jack Black's best performances as well.
This is not even kind of a joke. Maybe this movie wasn't critically praised all over the world, but it's a completely underrated gem. The pairing of Cameron and Ashton Kutcher is almost as brilliant as the friendship between her and Lake Bell who matches her on charm and wit. Say what you will about the plot, this is Cameron doing some of her best comedic work, including physically. The scene where she runs to therapy deserves an award higher than an Oscar.
Article continues below advertisement
There's Something About Mary
Probably her most iconic work to date that we all think of any time we attempt to reach for the hair gel. I mean, she's the perfect woman! Yes, this was a fictional, written part, but seriously Cameron's pretty up there on the perfection scale. If you don't believe me just watch this movie and also check out pics of her surfing in a bikini. Takes a special kind of lady to achieve both of those feats.
In Her Shoes
She can come in and crush a comedy scene any day, but the heartfelt stuff? Yep, check that off the list too. This was such a different side of Cameron's acting that was complimented big time by Shirley MacLaine and Toni Collette. Cameron delivers a flawless performance of the most flawed character she's ever played.
Article continues below advertisement
You know, Bridesmaids takes a TON of credit for funny women in movies, and rightfully so, but there would be no Bridesmaids without The Sweetest Thing. This was the original move that proved girls can be just as gross as guys and even funnier in the process. Plus Cameron Diaz and Christina Applegate is a dream friendship come true. Cameron did that thing that no one does better than her: play a tough as nails, ballsy, in control lady who takes charge... to follow her heart and ends up being shy and vulnerable deep down.