NEWS
Susan Lucci Blasts ABC Head Honcho for 'All My Children' Cancellation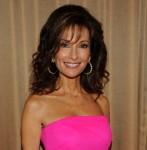 In her new book, All My Life: A Memoir, Susan Lucci unleashed her thoughts on Brian Frons, the ABC Daytime head honcho, in a newly added epilogue to her book. Considering she has played Erica Kane on All My Children since 1970, the show has been near and dear to her heart.
For starters, she gave him a dig when she wrote, "I think our being in this position is the result of some very bad decisions by you." As for the decisions themselves, in 2008 he hired a new head writer, moved the show from NYC to L.A. and also pushed aside Agnes Nixon, the show's creator.
Article continues below advertisement
OK! NEWS: ALL MY CHILDREN & ONE LIFE TO LIVE GET ANOTHER LIFE...ONLINE
Susan also mentioned that in April she was told that the show was going to be replaced by a food show that's cheaper to run. She wrote, "An iconic show was losing out to greed...If Brian Frons could show his bosses that he could save the network 40 percent...he could keep his job even if the rest of us lost ours." She added, "I watched Brian Frons' decisions destroy the production of our show and the lives of people on both sides of the country."
OK! NEWS: SUSAN LUCCI ON ALL MY CHILDREN CANCELLATION — "IT'S BEEN A FANTASTIC JOURNEY"
To add salt to the wound, Susan mentioned he appeared "self-congratulatory" when he delivered grim news to the cast and as she wrote he "has what, for me, is that fatal combination of ignorance and arrogance."
As reported by The New York Post, one industry source is wondering if she's truly bitter or if it's a ploy to promote her new book. "Is she bitter, or is this to get more attention for her book? Susan has done extraordinarily well from playing Erica Kane. She has had an amazing career for 41 years. It is too bad it doesn't end on a high note."