NEWS
SUSAN SARANDON WANTS 'ROMANCE' NOT WAR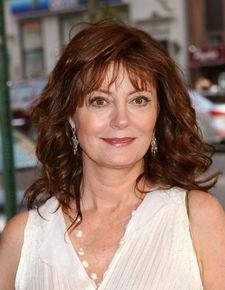 I caught up with at the Romance and Cigarettes premiere held at Chelsea West in NYC on August 30.
Wearing a white dress and holding a sensible red cardigan, the stunning star, 60, says "I'm desperate for water," before an assistant arrives with an ice cold bottle of Poland Spring. After she takes a few sips, she's ready for OK!
In the movie musical, Susan sings 's "Take Another Piece of My Heart." She confesses she was nervous and her rendition was "sour vocally."
Article continues below advertisement
Why do she and , 49, who has been her boyfriend since 1988, make a good couple? "I feel really comfortable with him," she tells me. "He's surprising."
Susan's next movie, In The Valley of Elah, places her in the role of a mother grieving for her son after the Iraq War. The political passionist says she would never allow their sons Jack, 18, and Miles, 15, to fight. "This war? I wouldn't want anybody's son to go off to this war," she tells me.
Is there another cause that might be worth fighting for? Nah.
"I'm nonviolent, so I have a problem with the myth of redemptive violence," she says.
Romance and Cigarettes opens September 7.