NEWS
Susan Sarandon's Mother Nixes Toy Boy Talk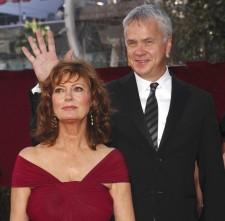 Susan Sarandon's mother was stunned to learn of her daughter's split from Tim Robbins, but she denies that a young New York entrepreneur is behind the break-up.
"My daughter was a little concerned about my hearing about the separation. It has affected me a lot, I'm still dealing with it," Lenora Tomalin told the Daily Beast.
"The way she was talking, it was very amicable. Tim is still in the picture because of the kids. I think they're handling it beautifully," the 86-year-old says. "There's no recrimination of any kind."
Article continues below advertisement
What about the rumors that Susan, 63, is dating her partner in Spin (her Manhattan ping-pong club) Jonathan Bricklin? "Gracious, no!" says Lenora.
"He's a gem. He has nothing to do with her other than as a business partner... If she was seeing Bricklin romantically, Susan would be upfront about it."