NEWS
Tamra Judge Dishes On Her Many Wedding Wardrobe Changes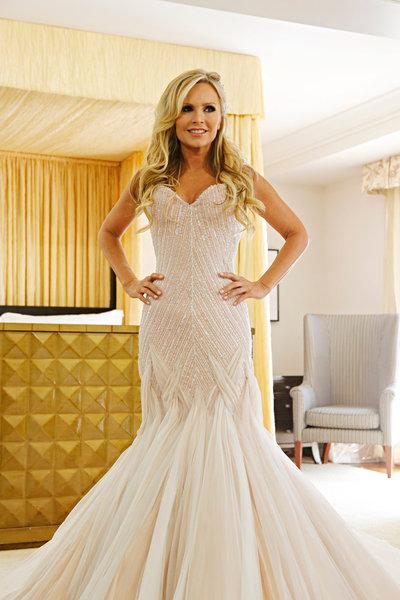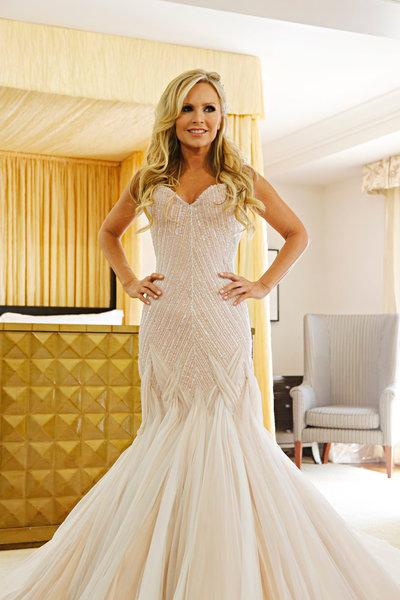 We're just a week away from the premiere of Tamra Judge's three-part series Tamra's OC Wedding and our favorite sharp-tongued Housewife and new hubby Eddie chat with OK! about how they pulled together their big day in just five weeks!
OK! News: 13 Things We Learned From Last Night's RHONJ
OK!: How hard was it to plan a wedding in just five weeks?
Eddie Judge: We had a wedding planner and 100 people working on it.
Article continues below advertisement
Tamra Judge: Clearly. We hired Diane Valentine, she did Usher's wedding. She planned the entire thing and he canceled it the day of the wedding, called it off, and then she had to go back three weeks later. So she was up for anything. She knew she could get through a Housewife wedding. So we had five weeks. There was a lot of drama. My dresses I had worked on…
EJ: Three.
TJ: Yes, three, he keeps reminding me, three. This season on Housewives I had already talked to a designer and he was making me a dress. Then when I put the dress on it weighed 95 lbs so I'm like, I'm not wearing this all night long. I had a ceremony dress, I had a more slinky gown for the reception and then I had a raise the roof dress for the end of the night. We actually performed a cha-cha as our second dance. Our first dance we did alone in the ballroom all by ourselves, except for seven camera guys. And then the dance we had at the reception was the cha-cha. So I had to have a fun, flirty dress that was kind of short with feathers. It was perfect.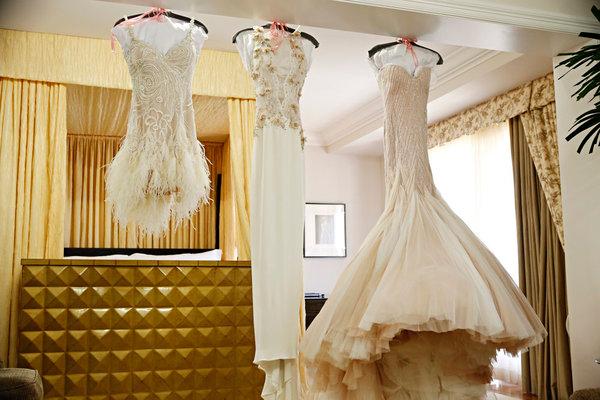 OK!: Eddie, you showed off your moves this season on Housewives, were you already familiar with the cha-cha?
TJ: This was his deal.
EJ: This was my deal. I hired a dance instructor to come and help us because there's no way I could have taught her…
TJ: I'm challenged when it comes to dancing, but I think I pulled it off.
EJ: You did great. I don't know if it was her confidence or the instructor's confidence but she pulled it together. She's a dancer.
Article continues below advertisement
TJ: I'm not naturally a dancer but I've always said, "I can't dance. Why would I take lessons? I don't have any rhythm. I just can't do it." He's always said, "You can learn to dance." And I'm like, you can not. But the dance instructor did great. The first few weeks it was just learning the moves and the next few weeks was choreography and nailing it down and putting the hips in there.
EJ: Five weeks of practice to get the cha-cha down.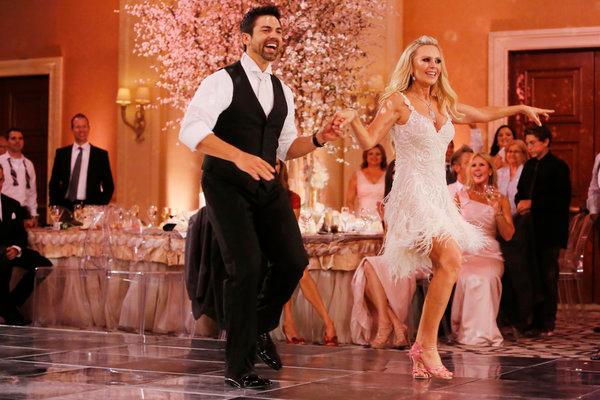 OK!: What was more challenging—getting the cha-cha down or finding three dresses?
TJ: Oh geez, getting the cha-cha down was probably the hardest thing I had to do because it's just not natural for me. The dresses were simple. He made my ceremony gown and then the only one that was kind of a twist was the cha-cha dress. He said, "I have it handled. I know what you need." I gave it to him and he came up with an amazing dress. But I kept losing weight before the wedding so my cha-cha dress was a little bit too big. I wish it was a little tighter.
Which Housewife have you been most excited to watch walk down the aisle? Tell us in the comments below or tweet @OKMagazine.