NEWS
Tareq Salahi Calls Michaele Salahi a "Lying Woman" & Is "Blindsided" By Her Affair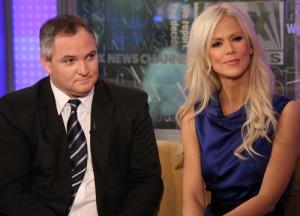 Tareq Salahi is devastated by the actions of his soon-to-be ex wife Michaele Salahi — who he first reported as missing last week, before he learned she had run away with the guitarist from Journey Neal Schon and had been have a secret affair with him for months. Tareq has filed for divorce from Michaele, and the famous White House party crasher turned reality star is opening up about the fallout of his marriage.
Article continues below advertisement
"Michaele used to always tell me that she would never want to date a rock star like Neal Schon, because of that lifestyle…the lifestyle of, there's always cheating…there's guys who are always doing these things backstage," Tareq tells E! News in an exclusive interview airing tonight. "She always told me, she never wanted to be associated with that."
Tareq also explains that his marriage was "perfect" the week before Michaele fled and claims that he has learned his wife was living a "double life" for two years.
"I mean, Neal really should be ashamed of himself for doing this, this was a beautiful marriage we had, and I was just blindsided that it was going on for two years," he says. "I just had no idea."
Luckily the couple has a prenup.
Article continues below advertisement
"We did have a prenup," he tells E!. "So the winery and all of the property is protected. Michaele came into this marriage with love. She's leaving with at least one broken heart, because she's a lying, cheating woman. She's a liar and a cheater."
Last week, Tareq filed for divorce.
And if the story could not get any more bizarre, Tareq noted in the divorce papers that Neal sent him an email photo of his penis.
He claims he has suffered emotional and physical harm because of Michaele's actions, and wants the court to grant him sole possession of their family home. The couple do not have any children.
Do you feel bad for Tareq? Sound off in the comments.