NEWS
Tatum & Ryan O'Neal Reconcile After 10-Year Estrangement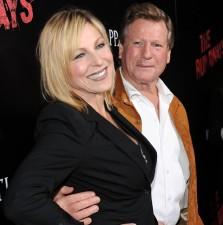 Tatum and Ryan O'Neal have now reconciled after being estranged for nearly 10 years. The father and daughter opened up to Access Hollywood about how they're having to adjust to being back in each other's lives.
OK! NEWS: FARRAH FAWCETT LEFT OUT OF OSCARS 2010 'IN MEMORIAM' TRIBUTE
Seeing his daughter again for the first time was "scary," Ryan told Access Hollywood. "Real scary. Tatum added. "Yeah, it feels beautiful, you know."
Article continues below advertisement
"It's overdue," Ryan said.
The father and daughter had been estranged for almost 10 years, but Tatum reached out to her father first.
"I called him up and he called me back," she explains.
"Dads are patient," Ryan said and added that being a part of Tatum's life again is "wonderful."
"When people reconnect, especially if it's your father…and you're the daughter… it's pretty big, big stuff," Tatum said.
OK! NEWS: TATUM O'NEAL RESPONDS TO FARRAH FAWCETT'S OSCAR SNUB
The reunited father/daughter team were both saddened to see that the late Farrah Fawcett was left out of the Oscar "In Memoriam" tribute.
"When we didn't see her at the Academy Awards… I was sad," Ryan confessed. "Another insult. Cancer was the first but this was another one."
"We feel it's unfortunate that they didn't include Farrah. We wanted to see her beautiful face," Tatum explained. "It would've made the telecast better. That's all. We happen to know her and love her. He knew her, far longer and better than I did but she was amazing and I loved her, too."
OK! NEWS: REDMOND O'NEAL RETURNS TO REHAB
Ryan and Tatum are also teaming up in helping Ryan and Farrah's son, Redmond O'Neal, through his time in jail and rehab.
"I spoke to him today, actually the first time in a couple of weeks," Ryan said. "He sounded wonderful and he has high hopes."
Tatum added, "He's getting better… we love him and miss him and pray for him every day."
For more of Ryan and Tatum's interview, tune in to Access Hollywood Friday night.