NEWS
Taylor Armstrong Says She Blamed Black Eye From Russell Armstrong on Her Daughter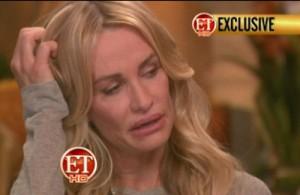 Taylor Armstrong revealed shocking details of her abuse at the hand of her late husband Russell Armstrong — who tragically committed suicide this summer — during her first interview with Entertainment Tonight Tuesday. The 40-year-old Real Housewives of Beverly Hills star said she lied to doctors about a severe black eye she suffered during Russell's rage, placing the blame on their 5-year-old daughter, Kennedy.
Article continues below advertisement
"I told the doctor that Kennedy had kicked me because Russell told me to tell him that," Taylor told ET's Nancy O'Dell.
OK! NEWS: TAYLOR ARMSTRONG SAYS RUSSELL ARMSTRONG FIRST ABUSED HER WHILE SHE WAS PREGNANT
She reveals that Russell stayed with her the entire time at the hospital and through her recovery post surgery.
"I didn't want Russell to go to jail, so I guess that was all right with me," she said of covering up the abuse. "He would say, 'If you call the police, they're gonna send me to jail. Who's going to take care of Kennedy? Who's going to take care of you?'"
She added that doctors "were a little surprised at the degree of injury from a child."
On ET tonight, Taylor opens up about what it was like when she found Russell's body after his suicide and how she tried to protect Kennedy from the devastating news.
"As I was laying in the street screaming, I realized that my little girl was there," she explains, fighting back tears. "And I had to pull it together to get her out of there. I just told her that daddy got sick and he died."
Taylor explains that she also told Kennedy she could talk to her dad daily.
"We could pick a star in the sky and it could be daddy, and that she could talk to him every night," she says.
For the conclusion of Taylor's interview on ET tune in tonight.