NEWS
Taylor Jacobson on Rachel Zoe Drama: "Way Too High School"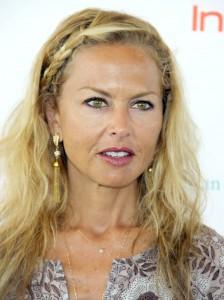 On the season premiere of Bravo's the Rachel Zoe Project, the Chanel-loving stylist is betrayed by her best employee Taylor Jacobson. But, in new reports, the now ex-associate says the entire situation was for "ratings."
"Honestly, wow. high school, way too high school," Taylor told Entertainment Weekly on Friday of the drama on Rachel Zoe's reality show. "I just think it is unnecessary. It just was stupid. There was no reason for that. It just seemed very bizarre to me."
Article continues below advertisement
Taylor, who is now working on a denim line, claims that none of the allegations against her are valid.
TAYLOR JACOBSON ON EX-BOSS RACHEL ZOE: "WE ARE DIVORCED"
"I am friends with PR people. Why would I steal samples? And I am a 34-D! Does no one look at what is on the runway? I straight up am a 34-D! I have huge boobs and a huge rib cage. I just don't understand," the designer gushed about not stealing from Rachel.
An even though Taylor claims that Rachel, "has tried to blacklist me from countless places," she is still doing fine on her own and , "Only one company won't work with me."
At the end of the day, Taylor is just happy to be out of the drama.
OK!'S FASHION WEEK BLOG: MARCHESA
"I am not into this drama. I dealt four years of drama. I am very happy with where I am. I have some great opportunities, I have been working consistently, I am building my clientele roster, I am doing it for myself and I am happy. I am not in a toxic environment. It's just like, Jesus Christ, ratings? Really?!?"
Catch the Rachel Zoe Project on Bravo on Wednesday nights.