NEWS
Taylor Lautner Says Kristen Stewart Was "Most Upset" About 'Breaking Dawn' Ending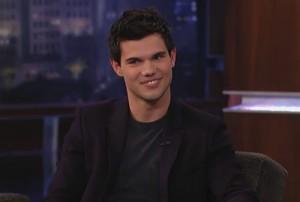 Who was the most upset about Breaking Dawn coming to an end? Taylor Lautner told Jimmy Kimmel he was "surprised" by how upset Kristen Stewart got on set.
OK! VIDEO: TAYLOR LAUTNER SAYS KRISTEN STEWART TRYING TO "ACT ALL TOUGH" WAS "FUNNY" TO WATCH
"All done," Taylor confirmed on Jimmy Kimmel Live about wrapping filming on Breaking Dawn. "It's very weird. Yeah, we've literally been filming these movies for the past three or four years. It's strange to know I'm not going back; I'm not going to be Jacob Black anymore. But on the other hand, we're going to be promoting these movies for the next two years."
Article continues below advertisement
"Did anyone cry?" Jimmy asked.
"Yes, to be honest with you," Taylor confessed.
"Who was most upset about breaking up the group?" the host asked.
"I was pretty upset myself, but I think the biggest surprise was Kristen Stewart." She's very sweet, yes," he said to the audience. "I predicted it from the beginning... On the last day, it did get emotional."
Watch the interview clip, below!
OK! VIDEO: WATCH TAYLOR LAUTNER & LILY COLLINS IN NEW ABDUCTION TRAILER!
Taylor also revealed a new movie clip from his upcoming film, Abduction, that shows off his martial arts skills.
"It was just a coincidence that I used to study martial arts and now I do action flicks," he explained. "When I was young, I did every sport possible, and martial arts was one of them. This movie was the first time I got to use it."
Check it out, below!