NEWS
Taylor Lautner Thought Bella & Jacob Would End Up Together in 'Twilight'!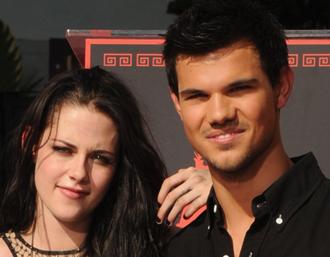 While fans will forever be divided, Team Edward or Team Jacob, part-way through The Twilight Saga's third book Eclipse it became painfully clear who Bella's heart belonged to. That is, to everyone but Taylor Lautner!
Taylor, who plays sexy werewolf Jacob Black in the films, is without a doubt the hottest corner of the Twilight love triangle — literally! (Werewolves run an average body temperature of 108 degrees.)
Article continues below advertisement
But no amount of rippling muscles or a steamy, ultimately life-saving body temp could sway Bella from her decision to be with Edward, a choice which apparently shocked the actor.
OK! NEWS: TAYLOR LAUTNER SHIRTLESS "A LOT LESS" THAN ROBERT PATTINSON & KRISTEN STEWART IN 'BREAKING DAWN'
Taylor recently opened up to Parade about learning of his character's impending heartbreak.
"The first time I read Breaking Dawn I was really surprised. Stephanie Meyers sent it to me and I was turning the pages and I'm like, 'Is Jacob going to end up with Bella or not?' I finally get to the chapter where he's with Bella's baby and that was a shocker for me. It kind of took a while to get used to that idea."
But just because Jacob and Bella can't be together onscreen, doesn't mean that Taylor and Kristen Stewart, who plays Bella in the films, can't be together offscreen — even if it's still just as friends.
"We've become closer throughout the years and we are extremely good friends now. Sometimes on set, we'd catch ourselves just being Taylor and Kristen, laughing and being ourselves, and there just happens to be a camera rolling, and then that makes it in the movie and that becomes Jacob and Bella. It was great to just be able to mess around with each other on set and have fun."