NEWS
Taylor Lautner Shirtless "A Lot Less" Than Robert Pattinson & Kristen Stewart in 'Breaking Dawn'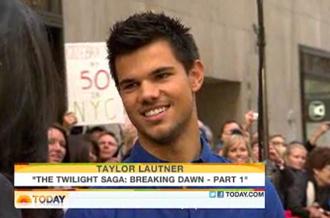 Article continues below advertisement
While Taylor maintains he wasn't shy about stripping down, he isn't the only one showing off skin in Breaking Dawn. Co-stars Robert Pattinson and Kristen Stewart show more than him!!
"I was lucky in this one, because I'm shirtless a lot less than Rob and Kristen."
Why is Taylor such a fan of the latest chapter?
"This is my favorite movie because it's different than any of the other ones in tone," he dished. "My character grows up in this one and becomes a lot more mature. It was an exciting one for me as an actor."