NEWS
Taylor Lautner's 'Sharkboy & Lavagirl' Co-Star Taylor Dooley Kisses & Tells!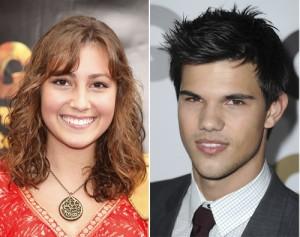 Before it was Taylor Lautner and Taylor Swift it was Taylor Lautner and Taylor Dooley!
OK! NEWS: TAYLOR LAUTNER STILL LOOKS HOT IN NEW ABDUCTION STILL!
Taylor D. starred with Taylor L. in The Adventures of Sharkboy and Lavagirl, which was the first film both of them had worked on!
So what was it like working with the now Twilight hunk back then?
Awkward!
"I kiss Sharkboy on the cheek in the movie, and it was my first on screen kind of kiss on the cheek thing. So Robert Rodriguez (the director) embarrassed me by saying, 'Oh it's going to be green screen so you don't actually have to kiss Taylor. You can kiss this wooden pole.' So he wrapped this wooden pole in green tape, made me say my lines and kiss the wooden pole like it was Taylor," she explained to PopEater. "I was like, 'Alright cool. Let's do this.'"
Article continues below advertisement
After several takes, Robert then told Taylor to "really stay there a long time and kiss the pole. Then he was like, 'Alright now bring in Taylor.' Everybody in the crew just started cracking up laughing, and Taylor was just laughing so hard. My face was so funny. They knew I was freaking out about it cause the moms had been talking about it," she admitted. "I was 11 or 12 when we shot it, and we were like best friends. I was like, 'This is weird!' Taylor made fun of be about that forever. The whole entire time I had no idea. I was so into it."
OK! GALLERY: TWILIGHT THREESOME TAKES OVER AS PEOPLE'S CHOICE AWARDS WINNERS
But Taylor D. says she still remains to be good friends with the now Twilight star and sees him "all the time."
"It was terrible to deal with. I remember the first day everybody was like, 'Can we bring Taylor to set? Well, which Taylor?' And it was the biggest mix-up all the time. So Robert was like, 'Let's make this easy. You're Sharky and you're Lava.' For the rest of the set we were Sharky and Lava the entire time."
Article continues below advertisement
"Taylor's been trying to get me to read them, but the movies are really good. I'm really excited for Taylor about everything that Twilight has done for him," she said of her former co-star. "I'm really proud of him. I know he's enjoying it and having a blast."
And Taylor D. is hoping to get back into Hollywood (she turns 18 on Feb. 26) after taking some time off for school.
"I would love to play a character that I could sink my teeth into, whether it's a movie, TV, comedy or drama," she said. "I feel like there's a lot of different parts of my personality that I'd like to show. I would be a lot of fun to be on anything to be honest."
Maybe the two Taylors will be co-stars again someday!
How cute were they?!