NEWS
Taylor Swift Asks Cancer Patient Kevin McGuire to Be Her Date at the ACM Awards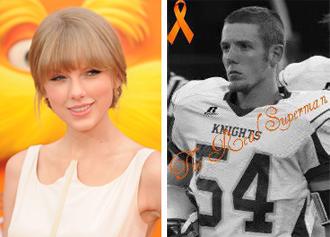 Article continues below advertisement
The 22-year-old singer has invited Kevin to be her date to the ACM Awards!
Taylor wrote on her Facebook page today, "Kevin, I'm so sorry but I won't be able to make it to your prom. But I was wondering, the ACM Awards are coming up.. Would you be my date? Love, Taylor."
We sure hope he can say yes!
OK! NEWS: TAYLOR SWIFT & ZAC EFRON PLAY A FOSTER THE PEOPLE GUITAR DUET FOR ELLEN DEGENERES
Kevin was diagnosed with leukemia when he was 13-years-old and has been in remission since 2010. He was worried that no one would want to go to his prom with him because he'll soon be losing his hair due to chemotherapy treatment, according to ABC News affiliate WPVI. Kevin expressed his concerns to his sister, Tori, who asked him, "What if I got Taylor Swift to go to prom with you?"
"His eyes lit up for the first time since he was diagnosed," she recalls.
So, Tori started a "Taylor Swif Take Kevin McGuire to Prom" Facebook page and with the help of some Tweeting and lots of fans support, Taylor got the invitation!
We can't wait to see Kevin and Taylor together at the ACMs!