NEWS
'Teen Mom' Maci Bookout Tells Ryan Edwards: Be a Better Dad!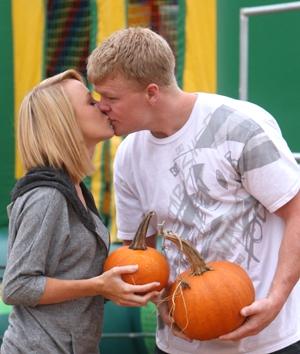 A 3-year-old's birthday should be a happy time — but not for parents Maci Bookout and Ryan Edwards. The exes' latest Teen Mom squabble is just adding to their already contentious relationship. "They try to be civil, but they just can't see eye to eye," an insider tells OK!. With Ryan once again ready to sue Maci for more custody rights of their son, Bentley, as OK! previously reported, things have gone from bad to worse. "Maci doesn't think it has anything to do with him wanting to raise Bentley," says the source. In fact, Maci believes Ryan's refusal.
Article continues below advertisement
OK! GALLERY: LEAH MESSER, MACI BOOKOUT & THE REST OF THE CASTS OF TEEN MOM AND TEEN MOM 2 REUNITED IN NYC!
In fact, Maci believes Ryan's refusal to show up at Bentley's 3rd birthday party proves just that. The exes agreed to have separate parties for Bentley, but the toddler called Ryan to ask him to attend the party Maci threw, and Maci believes he should have been there. "Ryan just showed up to pick him up after the party because it was his day to spend with him," explains the insider. "It was the bare-minimum effort from Ryan in Maci's opinion. It was, as far as Maci's concerned, proof that he does only the minimum when it comes to being involved in his son's life."
OK! GALLERY: ULTIMATE TEEN MOM GALLERY: MACI BOOKOUT, LEAH MESSER AND MORE!
Meanwhile, Ryan, 24, wasn't happy with Maci's behavior. When Ryan found out Maci told Bentley to call him and invite him to the party, Ryan was upset, says the insider: "He called Maci up and told her she makes him sick how she uses Bentley as a pawn to manipulate Ryan. Ryan doesn't like his son being raised like that, and he wants to have a more active role in his life." Of course, Maci maintains that, according to the insider, "she's trying to include Ryan, and he just doesn't want to even try."