NEWS
'Teen Mom' Season Three Premiere: Ryan Asks Maci If Kyle Is "Slow"; Farrah Gets a Boob Job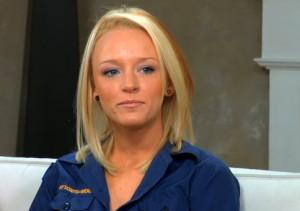 Season three of the original Teen Mom girls aired last night, and the highlights included Farrah Abraham getting a boob job and Maci Bookout being asked by her baby daddy, Ryan Edwards, if her new boyfriend, Kyle King, is "slow." In MTV's After Show, Maci explained what she thought of Ryan's question.
OK! COVER STORY: REALITY-TV MOMS — EVEN MORE BABIES!
Maci hadn't introduced Kyle to Ryan, so Ryan had some questions for Maci about her new man.
Article continues below advertisement
Ryan claimed he didn't want to ask a hurtful question but still text-messaged Maci, in last night's episode, asking if Kyle was "slow." Maci, surprisingly, didn't get too upset by his question.
"I had to laugh at him, not because it was funny but because it was so ridiculous," Maci explained on MTV's After Show.
And Maci says she thinks Ryan asked the question out of jealousy.
"I think Ryan felt like Kyle was taking his place," Maci says. "But instead of just being like, 'Great. There's a guy that can be around Bentley when I'm not there that Bentley loves, and I'm going to step up now and do my job' — instead of that he was just going to be ugly about it. I was like, 'Do you feel better? Are you going to sleep better at night because you said that?' It's terrible."