NEWS
Teresa Giudice Keeps Her Chin Up Despite Bankruptcy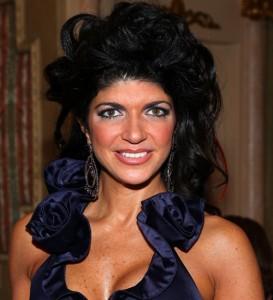 Despite being in the news for less than great reasons — namely, filing bankruptcy with her husband, Joe — Teresa Giudice of The Real Housewives of New Jersey is getting through it. "I have four beautiful daughters, you know me and my husband, as long as we have our health you know that's all we can do. We'll keep moving forward and working hard," Teresa said recently at the 4th annual Ladies Night Out Event in Paterson, N.J.
Article continues below advertisement
Not only does she have the support of her family, but she also has it from her fellow housewives, like Caroline Manzo.
"You know, there are true aspects to it and there are false aspects to it. It's sensationalized to a degree. A lot of the properties that they are talking about are business investments," she explained of her pal. "We're in a financial crisis right now. Joe is a builder and he suffered because of it. They're going to come back bigger, they're going to come back stronger. They have my love and support and I will stand by them. The rest of us will and it's all good. She'll be here looking fabulous, I'm sure. I'm not worried."
OK! GALLERY: HOUSEWIVES ABOUND AT BRAVO UPFRONT PARTY
By going through a situation like this in the public eye, Teresa has also realized that this is something a lot of people go through. She acknowledged that, "It happens all over the world." She also said you can look for a hint of it on a future Housewives episode: "It is real. I think I do address something, Joe does tell me something on the show regarding this. So, at least they get to see it."
Article continues below advertisement
Ladies Night Out benefits Dina Manzo's charity Project Ladybug.
"I was like should I go? I wanted to still be here no matter what. I think that by me being here, everybody will see that no matter what that it's really me and I'm trying to do the best I can," said Teresa.
OK! NEWS: NJ HOUSEWIFE DINA MANZO'S TOP 5 THINGS TO WATCH OUT FOR THIS SEASON
She also added on what she wants to teach her daughters, "I want to teach them morals. That's the number one thing. To respect themselves, hopefully they'll grow up just like me. Like I don't have skeletons in my closet, thank you very much."