NEWS
Teri Hatcher "Can't Believe" She Released Barefaced Pics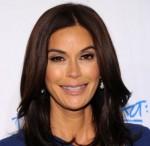 Desperate Housewives star Teri Hatcher has explained why she posted pictures of herself straight out the shower, without a scrap of makeup.
"This is so hilarious to me. I can't believe I actually put that out there!" Teri tells Entertainment Tonight, of the photographs.
OK! NEWS: TERI HATCHER REVEALS "TRUTHS ABOUT BEAUTY
The 45-year-old says her whole point in posting the pics was to highlight the trickery that goes into making Hollywood stars look good from great makeup to flattering lighting.
Article continues below advertisement
"For all you might feel you want to do to manipulate your face — surgery, whatever the things are — ...what I wanted women in America, not in Hollywood, to know is that so much of the manipulation of going from the real Teri Hatcher to the Teri Hatcher that's on an advertising poster or an endorsement, that a lot of that happens through lighting."
Teri admitted she was surprised by the power of social networking, saying, "Honestly, I am so behind the game on Facebook, I didn't even know that media could pick up pictures and distribute them all over the world."
Would the actress seek cosmetic help again? "It's not about Botox to me," she continues. "I don't have any judgment about doing Botox or not doing Botox.
"I've done Botox, I may do it again — I don't know. It's not the point. The point to me is that there has to be a different sort of baseline of how we're accepting beauty."