NEWS
The 5 Craziest Things Said on Last Night's Pretty Wicked Moms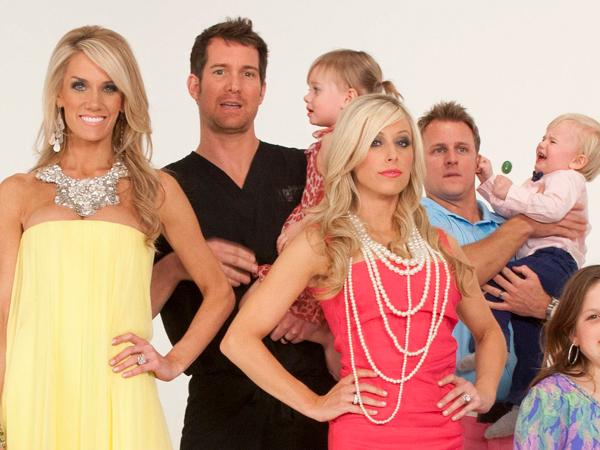 The drama came to a head in this week's season finale of Lifetime's Pretty Wicked Moms. As the ladies gathered for one more play-date for the kids, followed by an adult slumber party, the tension between Emily and Miranda escalated. Finally, the frenemies had it out at the sleepover party when Miranda caught Emily and her sidekick Nicole N. horsing around with her wedding bouquet and dress which were on display in the bedroom.
Article continues below advertisement
OK! Photos: 12 Former Housewives We Wish Would Come Back
In one of the most overly dramatic moments in Reality TV, Miranda explained (through tears!) that her wedding day was sacred. "It's just upsetting that Emily and Nicole can tarnish that day and that memory for me. I feel like I can't even walk in that room without getting upset and teary-eyed because they like stole that happiness from me." Seriously?
Here's a few of the best (or worst?) lines of the night:
Emily on Miranda's toddler son hitting her daughter: My first reaction was, "Hit him back!" And then I thought, Okay, I'm her mother, not her boxing coach!
Nicole B.'s reaction to Emily and Miranda's fight: I don't even know how I ended up friends with these bitches. They're crazy!
OK! Ask Heather: The RHOC Star Talks Motherhood and Babies!
Nicole B. humorously consoling Miranda: There's a bunch of ugly, fat people out there that don't like you. You got it? They don't like you. And sometimes I don't like you for being skinny and tan and f**kin' blonde, okay?
MORE ON:
Pretty Wicked Moms
Article continues below advertisement
Poor Meredith and her bad memory trying to referee the fight between Miranda & Emily: Oooookay... Oooookay... Okay, she never, ever said... okay, hold on... what did you say? Crickets
Miranda on her over-the-top girls night out party decorations - complete with monogrammed swag and a personalized, giant banner for her front door: Listen, I just threw all this together really quickly.
OK! Photos: 11 Best Adoption Storylines on TV From Glee, Grey's, Modern Family
What do you think was the most outrageous thing said on last night's Pretty Wicked Moms? Tell us in the comments below or on Twitter @OKMagazine.