NEWS
The Princesses' Best Quotes From Episode 9 of Princesses: Long Island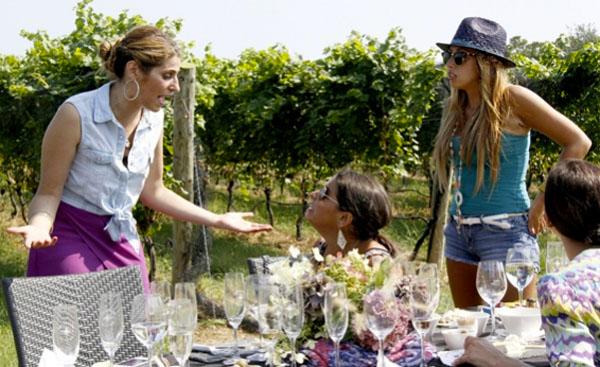 We're going to ignore the fact that tonight's episode of Princesses: Long Island was dejavu of that episode of RHONJ where Joe Giudice took a call from what we assume to be his mistress mid-way into their family meal at the winery. Instead, let's focus on the gals best one-liners from their trip to the vineyard, shall we? Let us begin...
Photos: Best Quotes from Princesses Episode 8
"I'd block her from my phone again, block her from Facebook, block her from everything in the world. I'd be so mad." - Amanda, when talking to her sister, while ring shopping, about how she'd treat Babs if Babs didn't let her get move in with, get engaged to and marry Jeff. The ultimate threat, if you ask us.
Article continues below advertisement
"Erica invited me to the vineyard but I dont want to be in the middle of nowhere with her, is she kidding?" - Casey, when talking about why she opted out of the girls' trip to the vineyard. Girl's got a point.
"Walking through this winery is so peaceful, I feel like I'm in the Garden of Eden." - Chanel, who clearly regretted saying that after 5 minutes into being at the vineyard, when all hell broke loose between Ashlee and Joey. But can someone please remind us again why they're fighting? Still don't get it.
"I need to pee. It really hurts. I think I have a UTI." - Erica, before peeing in the bushes (aka gossiping with Joey) at the winery. A UTI would honestly make a lot of sense.
"Can't I just take a jet or a small plane?" - Ashlee, when her dad, Hal, suggests that she call the owner of the vineyard and call a car service to take her home to Roslyn. As if Ms. White would ever be caught dead in a taxi.
Who had the best line of the night? Are you happy or sad that next week is the season finale? Tweet us @OKMagazine!