NEWS
'The Voice' Coaches Adam Levine, Blake Shelton & Cee Lo Green Bicker on 'Today'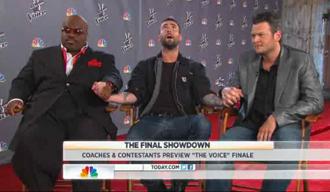 Tonight, The Voice's final four contestants, Tony Lucca, Jermaine Paul, Chris Mann and Juliet Simms, battle it out for the win, but it appears their coaches, Adam Levine, Blake Shelton, Christina Aguilera and Cee Lo Green, are the ones who are really brawling over the title.
Granted, if their finalist wins, that judge gets to deem himself or herself as the "best coach" of the season, but shouldn't this compeition be about the contestants? Turns out, not so much.
Article continues below advertisement
Cee Lo graciously returned the sentiment, but Blake saw right through his buddy's answer and called him out!
"What do you mean you're competitive with yourself?!" asked Blake, in his usual tough guy manner. ""That's the most generic, piece of crap answer."
"You're right. It was a terrible answer. It was totally dishonest," Adam admitted before adding, "The truth is... f**k these guys," Adam quipped while Cee Lo and Blake burst out laughing. "I want to beat the crap out of them in every possible way. If you're saying that this is a competition, absolutely, and they're both going down."
Article continues below advertisement