NEWS
The Wolf of Wall Street Star P.J. Byrne Talks Snorting Crushed Vitamin B and His New CBS Show, Intelligence!
You may recognize P.J. Byrne from his roles on The Game or in Horrible Bosses, but he's everywhere in 2014. He's creating utter anarchy alongside Leonardo DiCaprio in The Wolf of Wall Street, out right now, and he's starring in CBS' new show Intelligence, which premieres tonight at 9/8c. The guy is totally hilarious, and was delightful to talk to—especially after he pegged this writer as a fellow New Jersey resident instantly.
Article continues below advertisement
Photos: See all the sizzling celebs at the Palm Springs International Film Festival.
P.J. Byrne: What up Jersey girl! What you want to know. Let's do this.
OK!: What was it like to find out you were going to be in Wolf of Wall Street? You've done loads of amazing projects, but what was it like to get this phone call?
PB: The first time I found out Martin Scorsese saw my audition tape and loved it, and I had to fly to New York to meet him, was like gasps otherwordly. When an icon decides that you're good enough in his film, that's the best housekeeping you can get. That's a great day in your life. Yes, my baby being born and my wedding day, but as far as your career? That's an epic, epic, epic, you can write epic seventeen times!
OK!: Was it as much fun to film as I imagine?
PB: Even Leo said, 'This is the funnest time I've ever had on a movie,' and he's sort of done a couple of films? 'Listen, I want you to show up and have the greatest time of your life,' that was the mantra every day. You're going to be doing quaaludes, and everybody's naked, and you're partying your balls off. It's interesting, because you have to leave your morals and ethics at the door. These are bad guys. That was the tough part, to trick your brain into being so horrible.
Article continues below advertisement
Photos: See the hottest photos of Leonardo DiCaprio ever taken.
OK!: Was there one scene that stands out as totally ridiculous?
PB: Shaving a girl's head was epic. I wore candy underwear. I snorted up crushed vitamin B. Fake sex with ladies. It was insane.
OK!: What is it like to snort vitamin B?
PB: I've obviously never done cocaine in my life, and I was scared as hell, but it's oddly very easy. If you watch that scene again where I'm talking to them on the phone and trying to figure out what to do with Steve Madden, we shot their scene first. I knew they were doing coke on their end, so I did it on my end. In the movie, when you snort cocaine, they did it for clarity. Like the greatest cup of coffee of your life. I thought it'd be funny when I hang up, I'm like, let me do just another line and now I'll go out and tell them. But even on rehearsal days, I sat down at a table with Martin Scorsese and Leonardo DiCaprio and just me. I do have a finance degree and they'd ask me questions. How did I get here?! Another great thing about Martin Scorsese is that he trusts his actors to go do their thing. The majority of what you hear me say in that movie is improvised.
OK! News: Check out the best-dressed girl from the Wolf of Wall Street premiere.
OK!: Are people recognizing you now? What do they usually recognize you for?
PB: It's pretty mixed bag. I was on a TV show called The Game, and when I go to Atlanta, it's awesome. That's where it shoots. I get Horrible Bosses. I do this cartoon, and those are the greatest fans in the world, with the most chutzpah. People would scream out my name—Bolin!—from The Legend of Korra on Nickelodeon. The good thing about Wolf of Wall Street is it's tough for people to recognize me without that wig. Even friends were like, which one were you?! in the previews. I was like, I'm the one talking about throwing a dwarf, which is disgusting.
Article continues below advertisement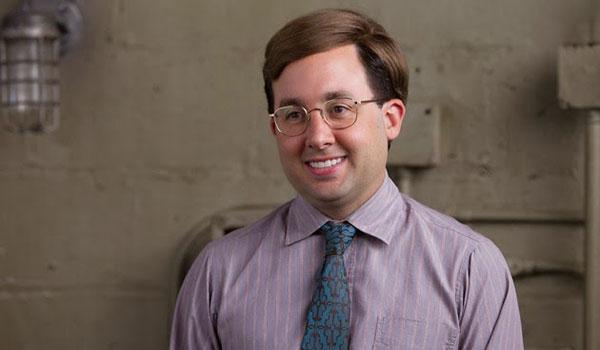 OK!: Tell us about Intelligence. What's the premise?
PB: Josh Holloway, this ugly dude, god bless him. He got a computer chip implanted in his brain, so he has access to the global information grid. He can tap phones, internet, anyone's computer, in the blink of an eye. I play Nelson Cassidy, a computer genius, but he can do everything I can do, except it's his mind and 1.6 billion times faster, and that is annoying. My father invented the chip, so he looks at him like a son, like his Pinocchio, and I'm his actual son so that's annoying to me. He's also better-looking, which is annoying to my character as well. He can also kick ass and get all the babes, so there's a lot of sources of contention. My pseudo-brother is awesome. If the CIA and FBI can't solve it, we are the final stop.
OK!: Why are sci-fi shows so big right now?
PB: Technology is getting real. We're able to wear technology, analyze ourselves with technology, we have Google Glass. It's not like it's in the future anymore, it's two minutes away. That's what the show is about. These are the dilemmas we face having this incredible amount of technology. We're going to swallow chips that report on how your hearts is doing. Your iPhone will tell you you're having a heart attack.
Photos: Check out how you can recreate the fashion from American Hustle!
OK!: It's not impossible. We're only a couple of years away.
PB: They're thinking about putting one in your brain, I'm just giving you a heads up.
OK!: Aww, crap.
PB: You're on a list somewhere!
Do you recognize P.J. from any of his major projects? Have you seen Wolf of Wall Street yet? Will you give Intelligence a try? Tell us in the comments below or tweet us @OKMagazine.