NEWS
Watch Leonardo DiCaprio and Listen to Kanye West in the New 'The Wolf of Wall Street' Trailer!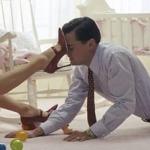 Just when you thought a Leonardo DiCaprio movie couldn't get any better than The Great Gatsby, along comes The Wolf of Wall Street.
Check out the trailer for the actor's upcoming new film, which follows his character Jordan Belfort, a playboy stockbroker who is living large in the '80s and '90s.
OK! News: A Look Back at Leonardo DiCaprio's Past Movies
"The year I turned 26, I made $49million, which really p***ed me off because it was just shy of $1million a week," he proclaims at the start of the trailer.
Article continues below advertisement