NEWS
Tiger Will Not Be Awarded Congressional Gold Medal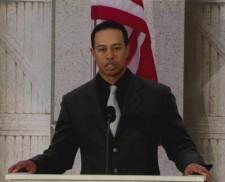 The Tiger Woods scandal has reached Congressional heights. In the wake of the pro golfer's indiscretions, California Representative Joe Baca is abandoning his plan to give Tiger the highest Congressional award for a civilian, TMZ reports. "In light of the recent developments surrounding Tiger Woods and his family, I will not pursue legislation awarding him the Congressional Gold Medal this session," Baca says in a statement released today.
Article continues below advertisement
According to TMZ, Baca had previously submitted a bill to award Tiger for his "service to the Nation in promoting excellence and good sportsmanship, and in breaking barriers with grace and dignity by showing that golf is a sport for all people."
Tiger has already lost his commercial slots, and Gatorade (one of his largest endorsers) recently discontinued their "Tiger Focus" sports drink.
Is the Nike fallout soon to follow?