NEWS
Tiger Woods New Nike Commercial Unveiled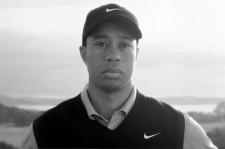 On the eve of his return to the professional golf arena, Nike unveiled a new commercial featuring Tiger Woods and the voice of his deceased father, Earl Woods.
The ad featured recordings of Tiger's late dad, that appear as though he is addressing his son about his recent sex scandal.
OK! NEWS: MASTERS CHAIRMAN ON TIGER — "HE DISAPPOINTED ALL OF US, OUR KIDS & OUR GRANDKIDS"
Tiger remains motionless, staring at the camera with shame in his eyes, in the 34-second black and white spot.
Article continues below advertisement
The golf pro shared a very close bond with his late father, who was always on the sidelines supporting his son.
"I fooled myself as well. I lied to a lot of people deceived a lot of people," Tiger said in his press conference on Monday. "Rationalized and lied to myself. When I stripped that all away and realized the full magnitude of what I've done it's pretty brutal."
The four-time Masters champion will make his golf comeback today at Augusta National, after an almost five-month hiatus from the sport.
His wife, Elin Nordegren, will not be on the sidelines.