NEWS
Tiger Woods Will Not Play in His Tourney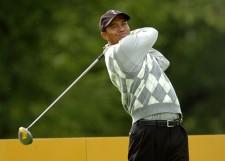 Tiger Woods announced on his Web site today that he will be unable to play in the 2009 Chevron World Challenge this weekend at the Sherwood Country Club in Thousand Oaks, Calif., due to injuries he sustained in his car accident last week. "I am extremely disappointed that I will not be at my tournament this week," Tiger says."I am certain it will be an outstanding event and I'm very sorry that I can't be there."
Article continues below advertisement
The annual tournament benefits the Tiger Woods foundation, an organization offering scholarships and helping children and teens gain the skill set need to achieve their future goals.
"We support Tiger's decision and are confident the strong field and excellent course will provide an exciting week of competition at the Chevron World Challenge," said Greg McLaughlin, Tiger Woods Foundation President & CEO.
Tiger will not participate in any other tournaments in 2009 and will return to action next year.
The pro golfer endure facial cuts and was hospitalized after he accidentally struck a tree and fire hydrant outside of his Windermere, Fla. home on Friday morning. A source at TMZ reports that the entire mishap may have been caused by an argument with his 29-year-old wife, Elin Nordegren.
According to a TMZ source, Elin and Tiger had been fighting prior to the Escalade collision, days after rumors surfaced in the National Enquirer of an affair between Tiger, 33, and his alleged lover Rachel Uchitel, who claims that the entire story is bogus.