NEWS
Tiger Woods Wins With Nike: Golf Pro Shoots New Commercial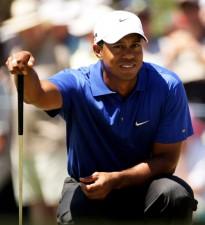 Tiger Woods is still a swoosh in Nike's eyes. The iconic sportswear company stuck with Tiger through his cheating scandal, and has moved forward with the golf pro, shooting a new commercial in his own backyard.
Tiger shot the new spot for Nike yesterday, TMZ reports.
OK! NEWS: TIGER SPEAKS OUT IN A CANDID INTERVIEW
The pro was wearing his trademark black and red Nike gear for part of the shoot, sources tell TMZ about the commercial that was hot on the Isleworth Country Club golf course in Tiger neighborhood in Windermere, Fla. yesterday morning.
Article continues below advertisement
He is scheduled to participate in the upcoming Masters Tournament next month.
CLICK HERE FOR ALL OF OK'S TIGER WOODS NEWS & PICS
In 2000, after four years on the PGA Tour and several championships under his belt, Tiger signed a 5-year, $105 million contract extension with Nike. The contract was reportedly the largest endorsing deal ever signed by an athlete at that time.
Check Out Tiger's Last Commerical for Nike.