NEWS
VIDEO: Tiger Woods Says "I Felt That I Was Entitled"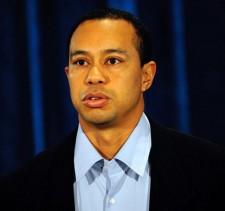 Tiger Woods came out of hiding today to break his almost three-months silence and publicly apologize for his indiscretions. "I had affairs," Tiger admitted. "I cheated."
OK! EXCLUSIVE: WILL ELIN BE BY TIGER'S SIDE AT TODAY'S PRESS CONFERENCE?
Tiger took the podium and addressed his family, friends and fans publicly and apologized for his indiscretion, CNN reports.
"I am deeply sorry for the irresponsible and selfish behavior I engaged in," he said and admitted, "I had affairs. I cheated."
Article continues below advertisement
"I felt that the rules didn't apply," Tiger explained. "I felt that I was entitled. Thanks to money and fame, I didn't have to go far to find them."
Tiger said he wouldn't go into details of his behavior, but said reports have been intrusive and inaccurate.
OK! HOT GALLERY: TIGER WOODS PUMPS UP FOR PRESS CONFERENCE
However, Tiger did address reports of his wife Elin Nordegren hitting him and how he is in the process of discussing with his wife adding, "What we say to each other will remain between the two of us."
"Elin never hit me that night," he stated, "Or any other night." He told the press, "For the sake of my family, please leave my wife and kids alone."
He also admitted to being in therapy saying, "I have a long way to go," he said, but is taking "the first steps in the right direction."
CLICK HERE FOR ALL OF OK!'S TIGER WOODS NEWS & PHOTOS
"I am so sorry," he said. "I hurt my wife, my kids, my mother, my wife's family, my friends, my foundation and kids all around the world who admire me."
"I do plan to return to golf someday, I just don't know when it will be," he said.
Starting tomorrow Tiger said he will leave for more treatment and more therapy. Once he was done speaking he gave his mother, Kultida Woods, a big hug.