NEWS
Tiger's Neigbors Asked by His Wife to Call Cops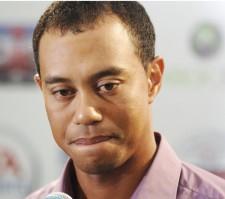 New details continue to emerge in the Tiger Woods accident. An attorney for the neighbors who dialed 911 after the golfer' car crash last week says they saw no indication the golfer was beaten or driving under the influence, the Associated Press reports.
Attorney Bill Sharpe said today that Linda Adams and her adult sons Jarius and Jerome Adams went outside their Orlando-area home after hearing the crash, according to the AP.
Article continues below advertisement
Elin Nordegren was upset about her husband's injuries and she asked her neighbors to call 911. Sharpe says Tiger appeared woozy and had scratches on his face.
The Adams family told the attorney that Elin was not holding a golf club.
She told investigators she used a club to break a window to pull her husband from the SUV.
Yesterday, Tiger withdrew from his golf tournament in Sherwood Oaks, Calif., due to the injuries he sustained after hitting a tree and fire hydrant in his driveway last Friday.
"I am extremely disappointed that I will not be at my tournament this week," Tiger said on his Web site."I am certain it will be an outstanding event and I'm very sorry that I can't be there."