NEWS
Tila Tequila Lashes Out at D.A.'s Decision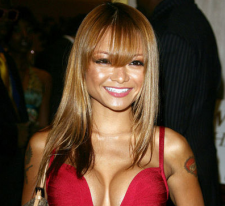 Following the news that the District Attorney in San Diego had decided not to press charges against local NFL star Shawne Merriman for allegedly choking and assaulting Tila Tequila last weekend, the reality star's lawyers have come out swinging, calling the D.A.'s decision "reckless" and "Unconscionable."
In a statement released to TMZ, the Shot at Love star's legal eagles say:
"Tila Tequila is the victim of a violent crime. The San Diego District attorney's decision not to press charges against Shawne Merriman for the battering of Tila Tequila demonstrates an unconscionable negligence in the discharging of their public duties. We strongly feel that justice has not been served in this matter.

Obviously, The San Diego Charger's NFL franchise brings millions of dollars in revenue to the city of San Diego, and it seems clear that other interests are being served by the DA's office than the upholding of the law. A young woman was violently beaten and choked, and the physical evidence is both overwhelming and disturbing. Tila's account of the events has remained consistent from the beginning, while Merriman's story has changed repeatedly.

Just because the DA has made this reckless decision doesn't mean that justice will not be served in this case. No one is above the law. Tila Tequila will immediately begin pursuing civil charges against Mr. Merriman and she will have her day in court."
Article continues below advertisement