NEWS
'Toddlers & Tiaras' Mother Defends Daughter's "Over-the-Top" Costume Enhancements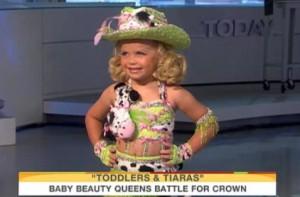 Toddlers and Tiaras star Maddy Jackson, 4, and her mother and grandmother appeared on the Today show this morning to defend their "over-the-top" costumes, perhaps in preparation for tonight's new episode which features Maddy wearing fake boobs!
OK! NEWS: WATCH TODLLERS & TIARAS STAR EDEN WOOD RECORD HER SINGLE "CUTIE PATOOTIE"
In tonight's episode of Toddlers & Tiaras, Maddy wears a Dolly Parton costume complete with fake boobs.
Article continues below advertisement
Savannah Guthrie chatted this morning on Today with the pageant family about what their response it to critics who say the costumes are too "over-the-top" in the pageants.
"To some people it's over-the-top, to us it's just what happens it's just normal," Maddy's mother Linsday Jackson explained.
Does she worry about the competitions being focused on appearance?
"I don't worry about that with her because I explain to her that we use the hair pieces to keep her hair from being, you know, processed, from being sprayed on," she said. "I haven't touched her hair today."