NEWS
Tom Cruise Goes to Harvard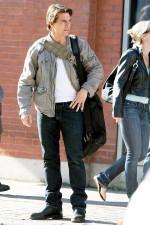 Tom Cruise, who's in Boston filming his new rom-com Wichita with Cameron Diaz, swapped the film set for the classroom, when he joined a Harvard law class given by his own lawyer on Monday.
Hollywood legal eagle Bertram Fields was lecturing in the school's entertainment law class Oct. 5, when the father-of-three snuck in, announcing he was there to see Bert speak.
Tom, 46, took his seat among the students, and gazed attentively at the guest lecturer, every so often sharing a joke with the lucky law student sitting next to him.
Article continues below advertisement
The Harvard Law Record reports that he interjected with stories about his own experience in entertainment and he "kept students laughing with his jokes."
At one point the entire class yelled out the most famous line from his 1992 movie A Few Good Men, "You can't handle the truth!"
After the lecture Tom, who's been putting wife Katie Holmes through her paces on daily runs, "shared advice, stories, high fives, handshakes, hugs, and even at one point an impromptu dance."