NEWS
Tony Dovolani on Kate Gosselin Spat: "I Called My Dad & Apologized"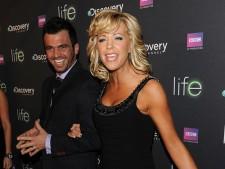 Tony Dovolani lost his cool last week with partner Kate Gosselin during a rehearsal for Dancing With the Stars. The spat caused a media firestorm, but according to Tony they moved on very quickly and are focused on excelling in tonight's performance!
OK! EXCLUSIVE: DWTS DRAMA — KATE GOSSELIN: "WE WEREN'T COMMUNICATING"
"That moment you all saw on TV happened early last week, and we immediately moved forward," Tony told Celebrity Good Life's The Plus. "In fact, in the next half-hour we were fine. It was five minutes that we both wish we could take back actually, to be honest. We moved forward because we have a job and task to do, and we both know we didn't mean what we said."
Article continues below advertisement
OK! GALLERY: KATE GOSSELIN GETS AT PEDI WITH HER LITTLE LADIES
So what caused the spat?
"It was one moment where I guess we were weak, and we showed our frustration. It just shows how much passion there is in our show," Tony said.
The dancer said after making amends with Kate he called his dad to apologize.
"He raised me better than that," Tony admitted. "We were raised to never speak when were upset or frustrated, to always cool yourself down and get your thoughts in order. Because you never want to say something you can't take back. In this case, I let a weak moment get to me and I said words that I wish I could take back. I made that very obvious by coming back and saying, 'I'm sorry.' "
Tony said Kate's fit, toned body makes up for her lack of dance experience.
"Her only weakness is that her brain and body don't communicate too well," he said. "Her brain tends to get into the way of what the body is learning at times."
Tony said Kate's plus eight brood is very supportive of their mom.
"They are wonderful kids," he said, hoping to get his three children together with Kate's for a play date.
"We've been planning on it, but there's so little time. I think it's going to end up happening after the season is over."
What do Tony and Kate have in store for tonight's performance?
"It's story week, so we have to tell a story through our dance," he said. "Ours is based on something that Kate lives with every day in her life. I think the viewers are going to enjoy the story. It's going to be a lot of fun."