NEWS
'DWTS' Drama! Kate Gosselin: "We Weren't Communicating"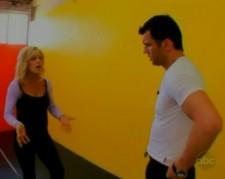 The stars give OK! their take on Dancing With the Star's Monday night dances, in which Nicole Scherzinger soared and Kate Gosselin struggled both on and off the dance floor.
OK! GALLERY: KATE GOSSELIN DANCES BACK & FORTH TO BE WITH KIDS IN PENNSYLVANIA
Nicole proved again she's the one to beat on Dancing with the Stars this season with a high energy Monday night jive that earned two perfect scores of 10from the judges. But reality TV mom turned dancer Kate provided all the drama when her on-camera rehearsal argument with partner Tony Dovolani caused the longtime dance pro to tell her "I quit." Although they quickly made up with each other, the judges deemed their dance painful to watch. Bruno Tonioli told the Jon & Kate Plus Eight mom — whose bitter divorce shocked the country — that she looked like a "Stepford wife."
Article continues below advertisement
OK! NEWS: PUSSYCAT DOLL NICOLE SCHERZINGER WALTZES TO FIRST DWTS WIN
In rehearsal footage televised on DWTS, Kate angered Tony by apparently telling him how to teach. They mended fences after the squabble, only to have her bobble in the jive, getting a score of only 15 out of 30 on Monday night. Combined with their 16 from last week, they have just 31 points out of 60. Bruno called Kate's jive performance a nightmare and Len Goodman said "nerves are breaking you."
OK! NEWS: KARINA SMIRNOFF ON KATE GOSSELIN — I TOTALLY UNDERSTAND HER
After the dance, Kate admitted to OK! "I'm glad it's done." But the mom of eight said she didn't agree with Len: "I feel like I'm working through the nerves. I had more fun than last week."
Tony said about his televised meltdown with Kate, "It's 30 seconds of my life I wish I could take back." Of his "I quit" moment, he sighed, "It's a great example of why you should never speak when you're upset and I guess I needed 30 seconds to calm down and come back in to the rehearsal studio."
Article continues below advertisement
OK! NEWS: THE DWTS CAST — WE ALL LOVE KATE GOSSELIN
Kate claimed to OK! that TV cameras exaggerated the tiff. "I ate a snack and then he was back. Did you ever hear the saying a mountain out of a molehill?"
But she conceded having a dance partnership wasn't all roses: "It feels like this strange marriage — you're just thrown together for a common goal. The pressure is on and nobody wants to lose and everybody wants to do their best and win. It's hard. The meltdown came a day after last week's performance, and I was very urgent, 'Now I've got to nail it this week!' We weren't communicating well. It made us better and we're moving forward."
The reality star wants America to know she calls herself "Ground Zero girl. I have zero dance experience."
OK! NEWS: CARRIE ANN INABA — LAST WORD OUTTAKES
By contrast, Pussycat Dolls singer Nicole looked like a professional with partner Derek Hough, as they got the highest score of the night, a 28. Combined with last week's top score, a 25, they have 53 out of 60 for the two weeks. Judge Carrie Ann Inaba bowed to the couple and called their jive "perfection."
Article continues below advertisement
Backstage, Nicole and Derek wore leis that her mom had brought to the show from her Hawaii home and some of the Pussycat Dolls also cheered her on from the audience. Although her performance looked effortless for the second week in a row, the singer told OK!: "I was so scared out there. It was amazing and we rehearsed so much. It just felt so good that our lungs survived. It's been quite a challenge for me."
Ice skater Evan Lysacek is in second place to Nicole with a score of 47 out of 60 from two dances. His 24 points Monday night for the Grease-style jive with pro Anna Trebunskaya delighted the judges. Evan told OK! after the show with Anna by his side, "The jive is all about high energy, a lot of fun, smiling, connecting with my girl here. We took a '50s style jive and funked it out a little bit."
OK! NEWS: ERIN ANDREWS ON DWTS — "THERE IS BLOOD ON THE DANCE FLOOR"
Article continues below advertisement
Erin Andrews and partner Maksim Chmerkovskiy garnered a 23 for their elegant foxtrot and with last week's 21, they have a strong cumulative score of 44 out of 60. The ESPN reporter was shown shouting at Maks during rehearsal, but they swiftly moved on.
Erin said of her Monday night dance, "He wanted me to be a princess, and that's what I was." When asked about reports Maksim had told a web site that "maybe" the two of them were dating, Erin was vague, telling OK! "Maybe. I guess. I don't know. I'll use Maks' quote." Instead of a real life partnership, she wanted to talk about their so-far-successful dance pairing, saying: "He wants it so bad for me. I want it bad for him and for me."
The surprising Pamela Anderson channeled Marilyn Monroe for her foxtrot and it worked, as she took home a 22 to add to last week's 21, for a total of 43 with pro Damian Whitewood.
OK! GALLERY: JAKE PAVELKA HAPPILY PRACTICES WITH HIS DWTS PARTNER
And hey, reality show fans, The Bachelor really can dance! Jake Pavelka proved last week wasn't a fluke, delivering a solid jive and equaling his score from last week, a 20. With a 40 out of 60 for the two dances, he couldn't stop smiling backstage. Jake and partner Chelsie Hightower, like some of the other couples whose arguments were televised on "meltdown Monday," had a little tiff in rehearsal but quickly worked it out.
Article continues below advertisement
"I'm the type of person, I'm going to drag it out of you," Chelsie said. "When we have a quarrel, it just means we learn more about each other." Jake told OK! of the performance that resulted, "It's one of the biggest hurdles I've ever had to overcome. The jive is a freestyle dance, quick kicks. It all of a sudden came together."
The Insider and Reno 911! funnygal Niecy Nash and partner Louis Van Amstel charmed the crowd and judges with a smooth foxtrot, getting a score of 21. Combined with the 18 for last week, she wound up with a solid 39 out of 60. To end her dance, she wound up sitting in the lap of a gentleman in the audience. But she admitted to OK! it wasn't her longtime boyfriend, Jay Tucker.
"That was a borrowed lap. It was really funny. My boyfriend couldn't come tonight because he had a really important work meeting but he said 'I love you and I'm going to send a lap in my place.' So he sent his really good friend."
OK! GALLERY: DANCING WITH THE STARS — SECRETS OF THE CELEBS
Shannen Doherty and her partner Mark Ballas earned a score of 20 for their jive. Combined with last week's 18, they got a cumulative score of 38 for the two weeks.
Article continues below advertisement
"I felt great," Shannen told OK! "I was having so much fun it was insane!" The former Beverly Hills 90210 star — whose father has fought a health battle recently — enjoyed having him in the audience once again.
"My dad is doing great. He loved this dance," revealed Shannen. "He liked the energy, that I was smiling; he knew I was having fun." When asked which 90210 star should do the show in the future (Shannen's co-stars Jennie Garth and Ian Ziering have already appeared on DWTS), she said, "I think you've got to go with Luke Perry or with Tori Spelling. Tori would beat up that dance floor. She would be a ham; she would be on fire; she would do amazing." After rehearsals with Mark, the actress said she de-stresses easily: "I throw on my Uggs and I go play with my dogs."
Soap hunk Aiden Turner and his pro, Edyta Sliwinska, improved from last week, foxtrotting their way to a 19. Combined with 15 for their first dance, they wound up with 34 out of 60.
OK! NEWS: DWTS CAST SAYS: EVAN LYSACEK IS THE ONE TO WATCH
Meanwhile, football great Chad Ochocinco and Cheryl Burke's foxtrot didn't come across well, with the team getting 16 and a cumulative score of 34 out of 60 over two weeks of competition. Chad said, "I think tonight was so awesome, regardless of what the scores were. I did the best I could. We'll bounce back."
Astronaut Buzz Aldrin has the lowest score over the two weeks, 28 out of 60 with partner Ashly Costa. The high-flying legend could only muster 12 points for their foxtrot on Monday to the tune of "Fly Me to the Moon." The ever-optimistic Buzz, 80, shrugged to OK!, "It's really a great learning experience. There's always room for improvement."
OK! GALLERY: DWTS CAST GEARS UP FOR DANCE PRACTICE
Will Buzz get that chance to dance again—or will his low scores send him into elimination orbit? Or will Kate's widely panned jive end the supermom's dancing days? Tune in Tuesday night on ABC to see who gets sent home!