NEWS
Tony Parker Tells a Different Story, Denies Cheating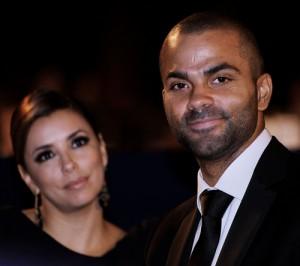 It's hard to tell what's fact and fiction in Eva Longoria and Tony Parker's divorce. Eva cited "irreconcilable differences" in her divorce filing and it seems these differences apply not only to their marriage but to their split as well. Each of the former Hollywood power couple is spouting very different versions of events and now it appears as though it's Tony's turn to tell his story.
Sources close to Tony tell TMZ that Eva's people aren't being completely honest about the split. The sources claim that the couple had known the divorce would be filed for a week before Eva officially filed on Wednesday, only a day after her reps denied any such break-up.
Article continues below advertisement
OK! NEWS: BRENT BARRY FILES FOR DIVORCE FROM ERIN BARRY AFTER ALLEGED TONY PARKER SCANDAL
According to sources, Tony had planned to file for divorce in San Antonio, Texas as was first rumored, but "Eva talked him out of it because she wanted to file in Los Angeles."
TMZ also reports that unlike what Eva's reps state, the actress was well aware of the divorce proceedings and timed the actual event to line up with her interview with a magazine this week.
Article continues below advertisement
Even if Tony never physically cheated on Eva, the "hundreds of text messages" would still be reason enough for the actress to file for divorce. But then why the lies?
OK! NEWS: EVA LONGORIA FILES FOR DIVORCE FROM TONY PARKER
A close friend of Tony's says that the different divorce stories are simply because, "She Eva was into the whole PR thing. He wasn't."
Of course, Eva's reps say that Tony's version of events isn't true and according to a source, "Eva and Tony were still talking about working out the marriage up until the morning she filed."
This whole thing is too confusing. Why couldn't Eva and Tony be a little more like Courteney Cox and David Arquette who, while sometimes too much so, are at least honest about the tragic turn of events?
By Sadie Gennis