NEWS
Tony Romo On Wife Candice Crawford & Their New Son: "It's Just A Great Experience"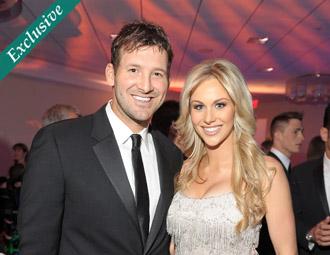 Tony Romo isn't just the starting quarterback for the Dallas Cowboys, he's now a new dad! The hot football player opened up to OK! about his new baby, Hawkins, and sexy wife Candice Crawford Romo while promoting Starter's new campaign.
"He makes it easy to always see him and smile," Tony told OK! about baby Hawkins.
"I think whenever you have a great wife and a great family, it just makes things in life a lot easier. I'm lucky enough to have that."
Article continues below advertisement
Is having a baby everything he thought it would be? "Yeah, and more! It's been awesome."
"It's still early, so I don't think I've seen everything yet, but I think one of the neat things you can say is, 'I have a son,' and you look at him and he's just there, and you can just say, 'Hey, son,'" Tony said.
Tony even revealed whether little Hawkins will have a throwing arm like dad's!
Tony said, laughing, "Big thing he did was when he was 3 weeks old — his 3-week birthday — he was on his stomach and he literally rolled over all the way on the ground, and that was impressive. He did it twice and then moved around, so we're going to need to keep him locked up a little bit."
Another person moving around a lot is his wife (and Chace Crawford's sister) Candice, who already looks amazing just months after giving birth!
Article continues below advertisement
"She looks great. She works hard, but after the pregnancy there is only so much mom can do after that, as everyone knows," Tony explained. "She ate really healthy during the whole process."
"I think that helped. She has good genes. She just takes care of herself. She's a great mom."
OK! NEWS: CHACE CRAWFORD REVEALS "TRUST ME, YOU DON'T WANT ME BABYSITTING!"
In terms of their relationship, Tony said, "I think it just adds another member that can bring you two closer together. You have another member of your family that you created; it brings you and your wife closer. It's just a great experience."
Will the two of them be cheering for Tony during the upcoming season? Of course!
"Oh yeah, they'll be at all the games," he remarked, laughing.