NEWS
The Top 10 Most Scathing Lines From 'Liz & Dick' Reviews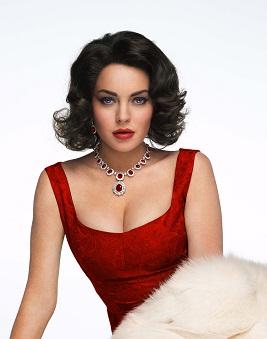 Lifetime's much-advertised Elizabeth Taylor biopic, Liz & Dick, premieres tonight! Audiences have long been teased with stills of Lindsay Lohan all Lized up, sometimes looking convincing, sometimes not so much. The moment has finally come. Unfortunately, many scathing reviews of the movie — including but not exclusive of Lindsay's performance — are already in. We've compiled a list of the ten most scathing (and funny, sorry but some are) lines from those reviews for you to peruse at your leisure, or to read aloud at that viewing party you may have organized.
Article continues below advertisement
2) "Lindsay Lohan's idol, Marilyn Monroe, continued to study acting well into her stardom, and turned in some very good performances as a result. Lohan might want to imitate Monroe's interest in her craft, rather than just dressing like her for magazine spreads." — Tim Molloy, Chicago Tribune
3) "Unfortunately Lohan and co-star Grant Bowler have about as much sexual chemistry as Kermit and Miss Piggy and none of that couple's tenderness." — Mary McNamara, L.A. Times
Article continues below advertisement
4) "The recreated scene from Virginia Woolf is absurd: It's as though Burton is trading barbs with a 14-year-old boy in drag." — David Wiegand, The San Francisco Chronicle
5) "There are moments in Liz & Dick when Lindsay Lohan looks a lot like Elizabeth Taylor. There are others in which she looks like Elizabeth Taylor doing a Saturday Night Live impersonation of Lindsay Lohan." — Alessandra Stanley, New York Times
6) "... she looks more like Joan Collins stapled in half." — Tom Gliatto, People
Lindsay Lohan cannot make a movie this bad by herself. There's an ample assist from the screenwriting, which strings together soap-opera lines ("I won't live without you!" "No more LIES!" "You haven't lost me, I've lost you") into a production you might expect to see Jenna Maroney in on 30 Rock.
Read more: https://entertainment.time.com/2012/11/23/tv-weekend-liz-and-dick/#ixzz2DGOnYSss
Article continues below advertisement
7) "It should come as no great surprise that Lifetime's Liz & Dick movie starring Lindsay Lohan is spectacularly bad." — Tim Goodman, The Hollywood Reporter
8) "Lindsay Lohan cannot make a movie this bad by herself. There's an ample assist from the screenwriting, which strings together soap-opera lines ("I won't live without you!" "No more LIES!" "You haven't lost me, I've lost you.") into a production you might expect to see Jenna Maroney in on 30 Rock." — James Poniewozik, TIME
9) "You can't watch Liz & Dick and say nobody's trying." — Matt Zoller Seitz, Vulture.com
10) "There is drinking game fun to be had here, but that's all Liz and Dick really offers. Please, don't drink every time one half of the lead duo downs some vodka or every time Lohan provides an absolutely affectless line delivery — I don't want to be responsible for any deaths by alcohol poisoning." — Maureen Ryan, The Huffington Post